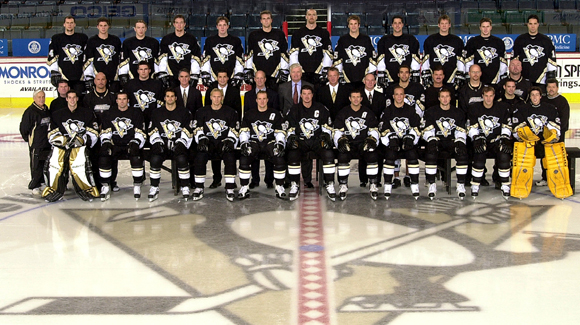 Front row: Sebastien Caron, Brian Holzinger, Rico Fata, Dick Tarnstrom, Martin Straka, Mario Lemieux, Marc Bergevin, Kelly Buchberger, Aleksey Morozov, Mike Eastwood, Marc-Andre Fleury

Middle row: Frank Sciulli (Locker room attendant), Mark Mortland (Trainer), Tom Plasko (Therapist), Josef Melichar, Randy Hiller (Asst. Coach), Ed Olczyk (Head Coach), Craig Patrick (General Manager), Ken Sawyer (President), Lorne Molleken (Asst. Coach), Joe Mulllen (Asst. Coach), Michal Rozsival, Steve Latin (Equip. Manager), Scott Johnson (Trainer), John Welday (Conditioning Coach), & Paul Flati (Asst. Equip. Manager)

Back row: Milan Kraft, Matt Bradley, Konstantin Koltsov, Ryan Malone, Brooks Orpik, Dan Focht, Steve McKenna, Drake Berehowsky, Nolan Baumgartner, Reid Simpson, Matt Murley & Ramzi Abid.
SEASON HIGHLIGHTS
• Marc Andre Fleury makes 46 saves - including a penalty shot - in his first NHL game, a 3-0 loss to the Los Angeles Kings on October 10. Ryan Malone become the first native Pittsburgher to play for the Penguins.

• On October 29 Mario Lemieux records his 1,700 career point in a game against the New York Islanders.

• A hip injury would shelve Mario Lemieux after just 10 games

•Marc Andre Fleury records his first NHL shutout on October 30 against the Chicago Blackhawks.

•Eight players score their first NHL goals, a team record for a season:
Ryan Malone (10/29 - New York Islanders),
Konstantin Koltsov (10/30 - Chicago),
Dan Focht (11/12 - New York Rangers),
Matt Murley (12/13 - Columbus),
Brooks Orpik (1/24 - Colorado),
Josef Melichar (1/27 - Tampa Bay),
Rob Scuderi (3/7 - New York Rangers)
Matt Hussey (3/16 - Washington)

•Ryan Malone and Brooks Orpik represent the Penguins at the NHL Young Stars All-Star weekend on February 7.


UNIFORM NUMBERS & SEASON STATISTICS
REGULAR SEASON

PLAYOFFS

#

Player

GP

G

A

PTS

PIM

GP

G

A

PTS

PIM

32

Dick Tarnstrom

80

16

36

52

38

-

-

-

-

-

95

Aleksey Morozov

75

16

34

50

24

-

-

-

-

-

12

Ryan Malone

81

22

21

43

64

-

-

-

-

-

14

Milan Kraft

66

19

21

40

18

-

-

-

-

-

9

Rico Fata

73

16

18

34

54

-

-

-

-

-

71

Konstantin Koltsov

82

9

20

29

30

-

-

-

-

-

55

Ric Jackman

25

7

17

24

14

-

-

-

-

-

43

Tomas Surovy

47

11

12

23

16

-

-

-

-

-

36

Tom Kostopoulos

60

9

13

22

67

-

-

-

-

-

55

Drake Berehowsky

47

5

16

21

50

-

-

-

-

-

15

Brian Holzinger

61

6

15

21

38

-

-

-

-

-

20

Mike Eastwood

82

4

15

19

40

-

-

-

-

-

8

Matt Bradley

82

7

9

16

65

-

-

-

-

-

6

Martin Strbak

44

3

11

14

38

-

-

-

-

-

11

Lasse Pirjeta

13

6

6

12

0

-

-

-

-

-

82

Martin Straka

22

4

8

12

16

-

-

-

-

-

72

Eric Meloche

25

3

7

10

20

-

-

-

-

-

44

Brooks Orpik

79

1

9

10

127

-

-

-

-

-

25

Marc Bergevin

52

1

8

9

27

-

-

-

-

-

66

Mario Lemieux

10

1

8

9

6

-

-

-

-

-

2

Josef Melichar

82

3

5

8

62

-

-

-

-

-

5

Patrick Boileau

16

3

4

7

8

-

-

-

-

-

26

Landon Wilson

19

5

1

6

31

-

-

-

-

-

19

Ramzi Abid

16

3

2

5

27

-

-

-

-

-

4

Dan Focht

52

2

3

5

105

-

-

-

-

-

39

Jonathan Sim

15

2

3

5

6

-

-

-

-

-

7

Kelly Buchberger

71

1

3

4

109

-

-

-

-

-

49

Matt Hussey

3

2

1

3

0

-

-

-

-

-

45

Rob Scuderi

13

1

2

3

4

-

-

-

-

-

23

Steve McKenna

49

1

2

3

85

-

-

-

-

-

22

Matt Murley

18

1

1

2

14

-

-

-

-

-

16

Kris Beech

4

0

1

1

6

-

-

-

-

-

6

Nolan Baumgartner

5

0

0

0

2

-

-

-

-

-

33

Reid Simpson

2

0

0

0

17

-

-

-

-

-

20

Steve Webb

5

0

0

0

2

-

-

-

-

-
| | | | | | | | | | | | | | | | |
| --- | --- | --- | --- | --- | --- | --- | --- | --- | --- | --- | --- | --- | --- | --- | --- |
| # | Goalie | GP | G | A | PTS | PIM | W | L | T | MIN | GA | GAA | SO | SV | PCT |
| 31 | Sebastien Caron | 40 | 0 | 0 | 0 | 6 | 9 | 24 | 5 | 2212 | 138 | 3.74 | 1 | 1041 | .883 |
| 30 | Jean Sebastien Aubin | 22 | 0 | 0 | 0 | 2 | 7 | 9 | 0 | 1067 | 53 | 2.98 | 1 | 521 | .908 |
| 50 | Martin Brochu | 1 | 0 | 0 | 0 | 0 | 0 | 0 | 0 | 32 | 1 | 1.88 | 0 | 18 | .947 |
| 29 | Marc Andre Fleury | 21 | 0 | 1 | 0 | 0 | 4 | 14 | 2 | 1154 | 70 | 3.64 | 1 | 1 | .896 |
| 40 | Andy Chiodo | 8 | 0 | 1 | 0 | 0 | 3 | 4 | 1 | 486 | 28 | 3.46 | 1 | 1 | .892 |