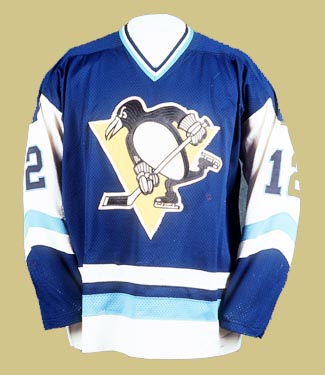 In 1977, the Penguins jerseys changed to a pattern that would remain the same for the next 14 years except for the upcoming color change in 1980.
The jerseys were the first mesh jerseys the team wore. The collars were tri-colored and the jerseys now featured two shades of blue: Navy and Columbia blue.
Jerseys in this era were made by Stall & Dean of Brockton, MA. As is typical of Stall & Dean jerseys, washing instructions, and size labels were placed inside the collar. Stall and Dean also used a single digit tag that indicated the last number of the year the jerseys were made. "7" tags represent jerseys made in 1977.
The 1977-78 and 78-79 jerseys used a fully embroidered crest that was sewn onto the jersey front. Numbers in these years were tackle-twill material pro-stitched onto the jersey.
In 1979-80, less expensive versions of the jerseys were only used for half a season. Numbers and crests were silkscreened into the mesh and nameplates from players on the previous season's roster were "recycled" onto the newer uniforms. Newer player's nameplates were made with heat sealed letters.
When viewing some jerseys from 1977-78 through 1979 it is not unusual to find jerseys without a nameplate or one that was re-created.
Players names become required as per 1977 league mandate. Penguins players names were sewn onto a separate piece of material, called a nameplate, and then sewn on the back of the jersey above the numbers.
The Penguins last wore blue and white on January 27, 1980 against the Bruins in Boston.
On January 30, 1980, the Pens debuted their new color scheme: Black and Gold. Two months earlier the Pittsburgh Pirates won the World Series Championship and the Pittsburgh Steelers had just won their fourth Super Bowl title. In keeping with the "City of Champions" theme, the Penguins adopted the black and gold theme.
The Boston Bruins filed a complaint with the NHL, but the Pittsburgh's request to change to black and gold was upheld because an earlier NHL franchise in the city,
the Pittsburgh Pirates
, wore black and gold in the 1920's.