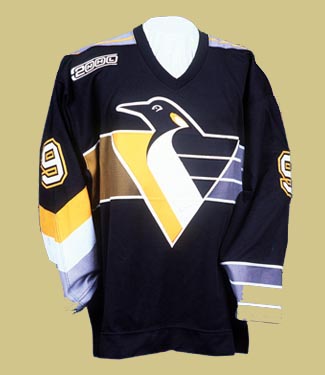 Except for the earlier "Sunday" gold jersey in the early 80's, Pittsburgh became one of the first teams to wear an alternate, or "third" jersey during the 1995-96 season.
It debuted at the Civic Arena on January 27, 1996 against Philadelphia. The jersey, made by Starter, was worn at home and road games for the next two seasons.
This jersey replaced the diagonal PITTSBURGH jersey as the new road jersey in the fall of 1997. In the only season they produced NHL jerseys, Pro-Player manufactured the Penguins' jerseys in 1999-2000. This jersey featured the
NHL 2000 patch
on the upper right chest of the jersey. The NHL shield on the hemline changed from black and orange to black and silver.
This style jersey was retired at the end of the preseason in 2002-03.
These jerseys were nicknamed "jammies" during Pittsburgh's epic overtime thriller with the Washington Capitals on April 24, 1996. The game had become the third longest in NHL history. Shorty before Petr Nedved scored the game-winner at 79:15 of overtime, Penguins broadcaster Doug McLeod said in the early morning hours that the team's new third jerseys are appropriate: "They look like they (the players) are already in their jammies."