The Pittsburgh Penguins unveiled the 2008-09 season's third, or alternate jersey, on November 5, 2008 at Dick's Sporting Goods in Robinson.
Long-rumored to be blue and white like the uniforms worn to ring in the New Year in the outdoor game in Buffalo, but "slightly different." The difference? No
Winter Classic Patch
.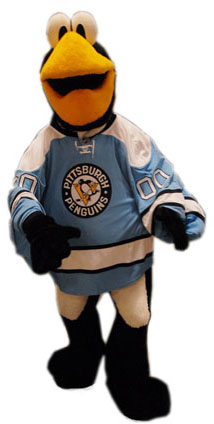 The Penguins wore the jersey against Buffalo on November 15th for the first of 10 games in the new, but old, blue and white and the team's official game puck featured the popular circular crest logo.
In 2008-09, the Pens wore the alternates in 10 home games,and went 3-5-2 in those games.
The original plan was to schedule 11 games in the retro uniforms, with the possibility of up to 15 games, but the team decided that ten games would be the limit.
The team has scheduled 12 games during this season (See schedule at right).
The Pens wore "throwback" jerseys for the NHL Winter Classic outdoor game between the Buffalo Sabres and Pittsburgh Penguins at Ralph Wilson Stadium on January 1, 2008.

The tie-down jerseys are made by Reebok and one set has been made for the season and featured the set tag in the rear hem.
Iceburgh's third jersey was a goalie-cut size 60-XX.