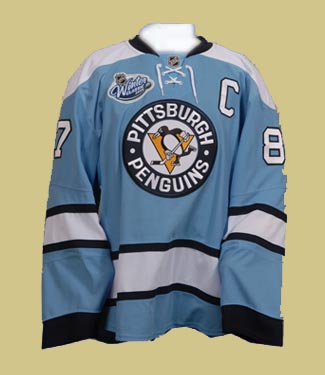 The Penguins
last wore blue and white against the Bruins in Boston
, on January 27, 1980.
Almost 28 years later, the Pens wore "throwback" jerseys for the NHL Winter Classic outdoor game between the Buffalo Sabres and Pittsburgh Penguins at Ralph Wilson Stadium on January 1, 2008.
Pittsburgh's Sidney Crosby scored the walk-off winner in the shootout to push the Pens past the Sabres, 2-1, in front of 71,217 fans at Ralph Wilson Stadium – a new attendance record for an NHL game.
The tie-down jerseys were modeled with the new RBK Edge cut and made out of Airknit material.
The jerseys featured a fully embroidered "NHL Winter Classic 2008" patch. (See below)
The Penguins wore four sets of the jerseys. One set was for the players, one set for the team, the NHL auctioned one set and the last set went to J&J Enterprises for sale to the public.
All of the jerseys were tagged and entered into the Meigray population report.