(20-48-4) Finished 4th in Western Division

• "Black" Jack Stewart who played for the Hornets in 1937-38, and 1938-39 returned to coach the Hornets.
The Hornets doubled their total of wins in their second season back from returning to the AHL.
• The Hornets lost to the Springfield Indians, 4-2, on February 3, 1963. The loss would begin the AHL's record for the longest winless streak. The team went 0-22-1 before beating the Hershey Bears on March 26.
• Barclay Plager played 13 games for the Hornets. Pittsburgh fans appreciated his gritty effort, but would later vilanize him when he returned as a member of the St. Louis Blues to play the Penguins.
[divider_top]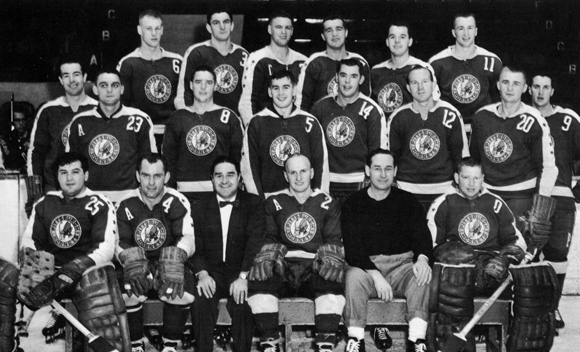 Front: Tony Parisi, Jack Price, Baz Bastien, Gerry Ordowski, Jack Stewart & Hank Bassen
Middle: Ray Ross, Norm Corcoran, Howie Glover, Barclay Plager, Earl Balfour, Jack McIntyre, Gordie Redahl & Eddie Joyal
Back: Ron Harris, Roger Lafreniere, Bo Elik, Claude LaForge, Howie Menard & Lowell McDonald
[divider_top]
[three_fourth]
1962-63 Pittsburgh Hornets
Click on column headers to sort.
| # | Player | GP | G | A | PTS | PIM | . | GP | G | A | PTS | PIM |
| --- | --- | --- | --- | --- | --- | --- | --- | --- | --- | --- | --- | --- |
| 9 & 17 | Eddie Joyal | 54 | 29 | 27 | 56 | 6 | | - | - | - | - | - |
| 8 | Howie Glover | 71 | 22 | 30 | 52 | 94 | | - | - | - | - | - |
| 10 | Howie Menard | 69 | 16 | 29 | 45 | 62 | | - | - | - | - | - |
| 11 | Lowell MacDonald | 41 | 20 | 19 | 39 | 4 | | - | - | - | - | - |
| 21 | Bob Dillabough | 52 | 15 | 19 | 34 | 32 | | - | - | - | - | - |
| 8, 12 & 25 | Al Johnson | 58 | 15 | 19 | 34 | 24 | | - | - | - | - | - |
| 7 & 21 | Claude Laforge | 50 | 10 | 23 | 33 | 73 | | - | - | - | - | - |
| 2 | Gerry Odrowski | 69 | 7 | 23 | 30 | 125 | | - | - | - | - | - |
| 20 | Vic Stasiuk | 22 | 9 | 20 | 29 | 24 | | - | - | - | - | - |
| 14 | Earl Balfour | 71 | 7 | 15 | 22 | 30 | | - | - | - | - | - |
| 11 & 21 | Larry Jeffrey | 21 | 14 | 7 | 21 | 12 | | - | - | - | - | - |
| 23 | Warren Hynes | 47 | 10 | 11 | 21 | 14 | | - | - | - | - | - |
| 6 | Ron Harris | 62 | 3 | 18 | 21 | 88 | | - | - | - | - | - |
| 3 | Roger Lafreniere | 65 | 2 | 14 | 16 | 123 | | - | - | - | - | - |
| 22 | Chuck Holmes | 30 | 1 | 15 | 16 | 8 | | - | - | - | - | - |
| 11 | Floyd Smith | 16 | 8 | 7 | 15 | 6 | | - | - | - | - | - |
| 5 | Keith Walsh | 49 | 2 | 10 | 12 | 22 | | - | - | - | - | - |
| 22 | Ray Ross | 21 | 1 | 7 | 8 | 4 | | - | - | - | - | - |
| 24 | Don Chiz | 18 | 3 | 4 | 7 | 2 | | - | - | - | - | - |
| 4 | Jack Price | 22 | 1 | 5 | 6 | 14 | | - | - | - | - | - |
| | Pit Martin | 5 | 1 | 2 | 3 | 0 | | - | - | - | - | - |
| 5 | John Miszuk | 10 | 0 | 3 | 3 | 16 | | - | - | - | - | - |
| 4 | Lou Marcon | 35 | 0 | 3 | 3 | 105 | | - | - | - | - | - |
| 23 | Norm Corcoran | 25 | 1 | 1 | 2 | 4 | | - | - | - | - | - |
| | Dick Roberge | 1 | 0 | 2 | 2 | 0 | | - | - | - | - | - |
| | Bob Wall | 3 | 0 | 2 | 2 | 2 | | - | - | - | - | - |
| | Floyd Martin | 2 | 1 | 0 | 1 | 2 | | - | - | - | - | - |
| | Larry Ziliotto | 4 | 1 | 0 | 1 | 4 | | - | - | - | - | - |
| 20 | Gord Redahl | 5 | 1 | 0 | 1 | 2 | | - | - | - | - | - |
| | Dave Lucas | 1 | 0 | 1 | 1 | 0 | | - | - | - | - | - |
| 12 | Jack McIntyre | 8 | 0 | 1 | 1 | 6 | | - | - | - | - | - |
| 3 & 5 | Barclay Plager | 13 | 0 | 1 | 1 | 15 | | - | - | - | - | - |
| 24 | Cummy Burton | 3 | 0 | 0 | 0 | 0 | | - | - | - | - | - |
| 21 | Boris Elik | 7 | 0 | 0 | 0 | 0 | | - | - | - | - | - |
1962-63 Pittsburgh Hornets Goaltending
| # | Goalie | GP | G | A | PTS | PIM | W | L | T | MIN | GA | GAA | SO | SV | PCT |
| --- | --- | --- | --- | --- | --- | --- | --- | --- | --- | --- | --- | --- | --- | --- | --- |
| 0 & 1 | Hank Bassen | 40 | 0 | 0 | 0 | 30 | 15 | 23 | 2 | 2,400 | 134 | 3.35 | 2 | - | - |
| 0 & 1 | Gilles Boisvert | 12 | 0 | 0 | 0 | - | 3 | 8 | 1 | 720 | 58 | 4.83 | 1 | - | - |
| 0 & 1 | Dennis Riggin | 19 | 0 | 0 | 0 | - | 1 | 16 | 1 | 1,140 | 112 | 5.89 | 0 | - | - |
| 25 | Tony Parisi | 3 | 0 | 0 | 0 | 2 | 1 | 1 | 0 | 120 | - | - | 0 | - | - |
[/three_fourth]
[one_fourth_last]
LEADERSHIP
Primary Owners:
John H. Harris
General Manager:
Baz Bastien
Head Coach:
"Black" Jack Stewart
Captain:
Boris "Bo" Elik
Al Johnson 
Scoring Leader:
Eddie Joyal (56)
Penalty Leader:
Gerry Odrowski (125)
[/one_fourth_last]
[divider_top]