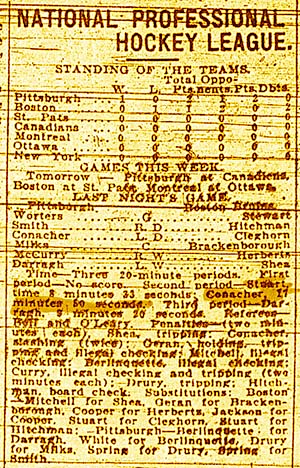 Pittsburgh's First NHL Game: November 26, 1925
On Thanksgiving night the Pittsburgh Pirates beat the Bruins, 2-1, in their first NHL game in front of a standing-room-only crowd at the Boston Hub Arena in Boston's Back Bay.
The largest crowd in NHL history sat silently as goal judge Joseph Sheehy waved his goal flag to signal that defenseman and captain Lionel "L-Train" Conacher scored Pittsburgh's first-ever NHL goal.
Conacher beat Boston goaltender Charles Stewart at the 17:50 mark of the second period to tie the game at 1-1.
Pirates' left wing Harold Darragh notched Pittsburgh's first game-winning goal 9:20 into the third period.
Pittsburgh goaltender Roy "Shrimp" Worters stopped 26 of 27 shots to record the first win in franchise history.
Two nights later in Montreal the Pirates would beat the Canadiens, 1-0, facing legendary goaltender Georges Vezina (The Vezina Trophy is awarded to the best NHL goaltender).
Vezina surrendered a goal to Conacher in the first period before leaving the game with a high fever. Vezina never played again and died four months later from tuberculosis.
The Pirates first game in Pittsburgh was against the New York Americans on December 2, 1925.
The First NHL Game Played in Pittsburgh: December 2, 1925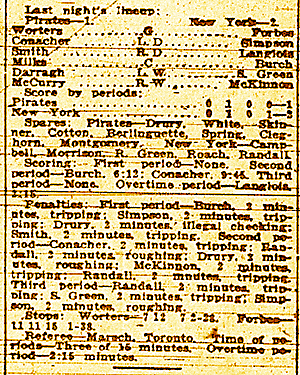 The first NHL game played in Pittsburgh in which 8,200 fans paid $1.00 to see the 8:30 p.m. faceoff at the Duquesne Gardens.
The Pittsburgh Pirates lost to the New York Americans in overtime, 2-1.
Billy Burch, the reigning NHL's MVP, scored a goal at 6:12 of the second period goal – the first NHL goal scored in the city of Pittsburgh.
Lionel Conacher scored the lone goal for Pittsburgh at 9:15 of the second period.
Pittsburgh goalie Roy Worters kept the game tied before surrendering a goal on New York's 30th shot of the night at 2:15 of overtime.
The Pirates, dubbed the "Mighty Steel City Sextext" in The Pittsburgh Press, where coached by Odie Cleghorn and were comprised mostly of leftovers form the former Pittsburgh Yellow Jackets.
Such familiar faces to the Garden's ice were Conacher, Worters, Roger Smith, Duke McCurry , Tex White, Hib Milks, Harrold Darragh, Harold Cotton and Herb Drury.
The game was attended by Pittsburgh Mayor William A. Magee, nephew of political powerbroker Christopher Lyman Magee, who converted the former trolley barn in Oakland to a multi-purpose facility known as the Duquesne Garden.