(38-33-1) Finished 3rd in Western Division

• Goaltender George Gardner played 3,932 minutes in 66 games an AHL high for the season.
• Gardner also set the AHL mark for seven shutouts that season, earning the only All-Star selection for the Hornets.
[divider_top]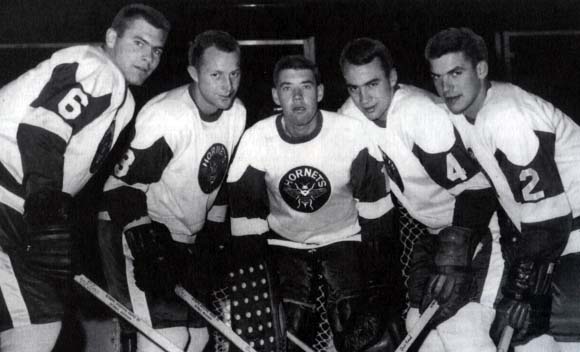 From left: Bert Marshall, Bob Wall, George Gardner, Gary Doak and Jim Cardiff.
[divider_top]
[three_fourth]
1965-66 Pittsburgh Hornets
Click on column headers to sort.
| # | Player | GP | G | A | PTS | PIM | . | GP | G | A | PTS | PIM |
| --- | --- | --- | --- | --- | --- | --- | --- | --- | --- | --- | --- | --- |
| 14 | Murray Hall | 70 | 28 | 45 | 73 | 102 | | 3 | 0 | 3 | 3 | 0 |
| 18 | Norm Beaudin | 70 | 29 | 29 | 58 | 35 | | 3 | 1 | 1 | 2 | 0 |
| 17 | Gary Jarrett | 71 | 24 | 26 | 50 | 30 | | 3 | 1 | 0 | 1 | 4 |
| 10 | Ted Hampson | 72 | 20 | 29 | 49 | 6 | | 3 | 1 | 0 | 1 | 0 |
| 11 | Andre Pronovost | 72 | 25 | 21 | 46 | 64 | | 3 | 0 | 1 | 1 | 0 |
| 3 | Bob Wall | 63 | 10 | 35 | 45 | 26 | | 3 | 0 | 1 | 1 | 8 |
| 9 | Duke Harris | 72 | 18 | 23 | 41 | 12 | | 3 | 1 | 1 | 2 | 2 |
| 19 | Billy Harris | 42 | 15 | 22 | 37 | 2 | | 3 | 0 | 0 | 0 | 2 |
| 5 & 6 | Bob McCord | 62 | 7 | 26 | 33 | 54 | | 3 | 0 | 0 | 0 | 7 |
| 8 | Claude Laforge | 56 | 11 | 20 | 31 | 38 | | - | - | - | - | - |
| 15 | Bob Cunningham | 65 | 10 | 21 | 31 | 14 | | 3 | 0 | 0 | 0 | 0 |
| 12 | Don McKenney | 37 | 11 | 19 | 30 | 8 | | 3 | 0 | 1 | 1 | 0 |
| 5 | Pete Goegan | 52 | 4 | 17 | 21 | 85 | | - | - | - | - | - |
| 8 & 12 | Irv Spencer | 19 | 4 | 11 | 15 | 26 | | - | - | - | - | - |
| 7 | Pit Martin | 16 | 6 | 6 | 12 | 26 | | - | - | - | - | - |
| 7 | Val Fonteyne | 12 | 5 | 7 | 12 | 6 | | - | - | - | - | - |
| 2 | Jim Cardiff | 58 | 2 | 9 | 11 | 27 | | 3 | 0 | 0 | 0 | 6 |
| 7 & 20 | Terry Gray | 15 | 5 | 4 | 9 | 10 | | 3 | 2 | 0 | 2 | 4 |
| 16 | Dennis Kassian | 61 | 0 | 8 | 8 | 12 | | 3 | 0 | 0 | 0 | 0 |
| 4 | Gary Doak | 48 | 0 | 6 | 6 | 88 | | - | - | - | - | - |
| 6 | Bert Marshall | 12 | 2 | 0 | 2 | 8 | | - | - | - | - | - |
| 4 | Lou Marcon | 11 | 0 | 2 | 2 | 25 | | 3 | 0 | 0 | 0 | 12 |
| | Jim Eagle | 1 | 0 | 0 | 0 | 0 | | - | - | - | - | - |
| 4 & 5 | Dave Lucas | 5 | 0 | 0 | 0 | 2 | | - | - | - | - | - |
1965-66 Pittsburgh Hornets Goaltending
| # | Goalie | GP | G | A | PTS | PIM | W | L | T | MIN | GA | GAA | SO | SV | PCT |
| --- | --- | --- | --- | --- | --- | --- | --- | --- | --- | --- | --- | --- | --- | --- | --- |
| 1 | George Gardner | 66 | 0 | 0 | 0 | 4 | 34 | 30 | 1 | 3,932 | 196 | 2.99 | 7 | - | - |
| | | 3 | 0 | 0 | 0 | 0 | 0 | 3 | - | 180 | 14 | 4.67 | 0 | - | - |
| 22 | Bob Champoux | 8 | 0 | 0 | 0 | - | 4 | 3 | 0 | 412 | 21 | 3.06 | 1 | - | - |
[/three_fourth]
[one_fourth_last]
LEADERSHIP
Primary Owners:
John H. Harris
General Manager:
Baz Bastien

Head Coach:
Eddie Bush &
Baz Bastien 
Captain:
Ted Hampson
Scoring Leader:
Murray Hall (73)
Penalty Leader:
Murray Hall (102)
AWARDS
George Gardner was an All-Star
[/one_fourth_last]
[divider_top]