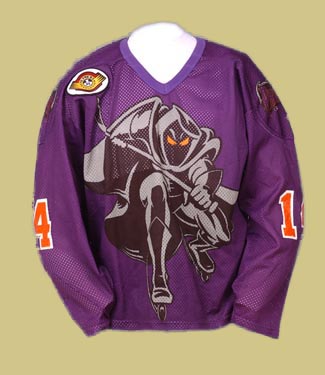 The darker style jersey was originally intended to be the home jersey with "PITTSBURGH" above the Phantoms's logo. A last minute decision by equipment manager Steve Latin kept the dark version as the home jersey.
The Phantoms road jerseys were mesh material and made by CCM. The logos on the shoulders and the front of the jersey were sublimated – or dyed – into the material.
The jersey numbers and player's names were heat-sealed vinyl material.
The CCM Roller Hockey International patch on rear hem and the KOHO patch on the front are fully embroidered patches.
These jerseys did not have fightstraps and should have a hand-written number on the inside tag of the jersey.