(28-41-9) Finished 5th in West Division

TRANSACTIONS

October 25 – Obtained Nick Beverley from Boston for Darryl Edestrand.
January 4 – Obtained Chuck Arnason and Bob Paradise from Atlanta for Al McDonough.
January 17- Obtained Ron Stackhouse from Detroit for Jim Rutherford and Jack Lynch. Obtained Bob Kelly, Ab DeMarco and Steve Durbano from the St. Louis Blues for Greg Polis, Bryan Watson and a second round choice in the 1974 Amateur Draft.
• The Penguins named Ron Schock the team captain, the first since their second season.
• Marc Boileau replaces Ken Schinkel as head coach on February 6, compiling a 14-10-4 record.
• Jean Pronovost scored a goal in seven consecutive games from February 27 though March 10.
• The "Century Line" of Syl Apps, Jean Pronovost and Lowell MacDonald combined for 107 goals – the second highest in the NHL.
• Apps finished seventh in the league scoring with 24 goals and 61 assists for 85 points.
• MacDonald finished ninth in the league scoring with 82 points (43+39).
• MacDonald's 43 goals set a Penguins' record.
• The Penguins named four players as Most Valubale Player. (Dave Burrows, Syl Apps, Jean Pronovost & Lowell MacDonald).
• On April 7, 1974 Andy Brown surrendered six goals in a loss to the Flames in Atlanta. It was the last time a goaltender played an NHL game without a mask.
[divider_top]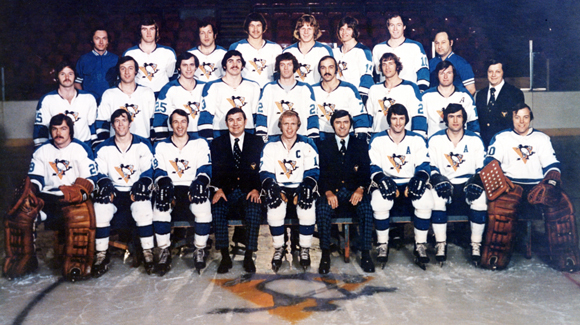 Front row: Gary Innes, Jean Pronovost, Lowell MacDonald, Jack Button (General Manager), Ron Schock, Marc Boileau (Head Coach), Dave Burrows, Syp Apps & Dave Burrows
Middle row: Bob McManama, Ab DeMarco, Nick Beverly, Ron Stackhouse, Bob Kelly, Steve Durbano, Bob Paradise, Ron Lalonde & Terry Schiffhauer (PR)
Back row: Ken Carson (Trainer), Blaine Stoughton, Jean Guy Legace, Bernie Lukowich, Chuck Arnason, Wayne Bianchin, Ted Snell & Bob DeMarco (Equip. Manager)
[divider_top]
[three_fourth][TABLE=20]
1973-74 Pittsburgh Penguins Goaltending
| # | Goalie | GP | G | A | PTS | PIM | W | L | T | MIN | GA | GAA | SO | SV | PCT |
| --- | --- | --- | --- | --- | --- | --- | --- | --- | --- | --- | --- | --- | --- | --- | --- |
| 1 | Jim Rutherford | 26 | 0 | 1 | 1 | 2 | 7 | 12 | 4 | 1432 | 82 | 3.44 | 0 | 0 | 0 |
| 29 | Andy Brown | 36 | 0 | 0 | 0 | 60 | 13 | 16 | 4 | 1956 | 115 | 3.53 | 1 | 0 | 0 |
| 30 | Gary Inness | 20 | 0 | 0 | 0 | 0 | 7 | 10 | 1 | 1032 | 56 | 3.26 | 0 | 0 | 0 |
| 1 | Denis Herron | 5 | 0 | 0 | 0 | 0 | 1 | 3 | 0 | 260 | 18 | 4.15 | 0 | 0 | 0 |
[/three_fourth]
[one_fourth_last]
LEADERSHIP

Primary Owners:
Peter Block, Elmore Keener & Peter Burchfield
General Managers:
Jack Riley & Jack Button
Head Coachs:
Ken Schinkel & Marc Boileau
Captain:
Ron Schock
AWARDS
Rookie of the Year:
Ron Lalonde
Player's Player:
Jean Pronovost
Most Valuable Player:
Dave Burrows, Syl Apps, Jean Pronovost & Lowell MacDonald
Leading Scorer:
Syl Apps
Unsung Hero:
Ron Schock
[/one_fourth_last]
[divider_top]