(27-34-13) Finished 5th in West Division
TRANSACTIONS
June 6 – Obtained Paul Andrea, Dunc McCallum and George Konik from the New York Rangers for Larry Jeffrey.
February 27?- Obtained Wayne Hicks from Philadelphia for Art Stratton.
• Pittsburgh was granted an NHL Franchise on February 9, 1966 when the league expanded to 12 teams during the NHL Expansion Draft.
• Played in the all-expansion, Western Division, the Penguins played their first game on October 11th at the Civic Arena. The ice rink size was 205 x 85 feet.
• The capacity of the Arena was 12,580 and the most expensive seat in the building was $5.00
• Andy Bathgate scored the first franchise goal on October 11 vs. Montreal.
• Penguins first victory was on October 13 at St. Louis, 3-1.
• First home victory October 21, in a 4-2 win over Chicago. Pittsburgh was the first expansion team to beat an established NHL team.
•Ã' Les Binkley recorded first Penguins shutout November 4 at Oakland, 1-0.
• Ken Schinkel represented Pittsburgh on NHL All-Star Team.
• Penguins won four games in a row March 26 to March 31.
• Finished in 5th place with a 27-34-13 record missing the playoffs by 2 points despite losing just 1 of their final 7 games.
[divider_top]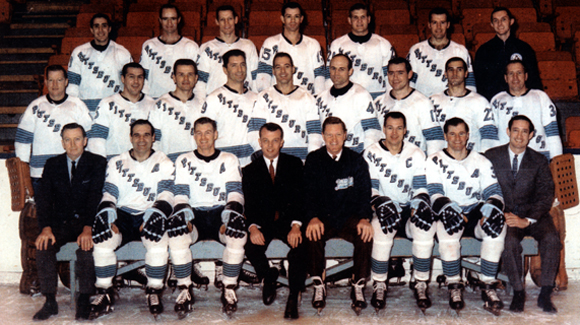 Front row: Jack Riley (General Manager), Leo Boivin, Earl Ingarfield, Jack McGregor (President), Red Sullivan (Head Coach), Ab McDonald, Al McNeil & Joe Gordon (PR)
Middle row: Hank Bassen, Dick Matussi, George Konik, Andy Bathgate, Art Stratton, Noel Price, Billy Speer, Paul Andrea & Les Binkley
Back row: Gene Ubriaco, Val Fonteyne, Ken Schinkel, Bob Dillabough, Keith McCreary, Billy Dea & Ken Carson (Trainer)
[divider_top]
[three_fourth][TABLE=14]
1967-68 Pittsburgh Penguins Goaltending
| # | Goalie | GP | G | A | PTS | PIM | W | L | T | MIN | GA | GAA | SO | SV | PCT |
| --- | --- | --- | --- | --- | --- | --- | --- | --- | --- | --- | --- | --- | --- | --- | --- |
| 30 | Les Binkley | 54 | 0 | 0 | 0 | 0 | 20 | 24 | 10 | 3141 | 151 | 2.88 | 6 | 0 | 0 |
| 1 | Hank Bassen | 25 | 0 | 0 | 0 | 8 | 7 | 10 | 3 | 1299 | 62 | 2.86 | 1 | 0 | 0 |
| 1 | Joe Daley | 1 | 0 | 0 | 0 | 0 | 0 | 0 | 0 | 0 | 0 | 0 | 0 | 0 | 0 |
[/three_fourth]
[one_fourth_last]
LEADERSHIP
Primary Owners:
Jack McGregor and Peter Block
General Manager:
Jack Riley
Head Coach:
Red Sullivan
Captain:
Ab McDonald
AWARDS
Rookie of the Year:
Les Binkley
Player's Player:
None awarded
Most Valuable Player:
Les Binkley
Leading Scorer:
Andy Bathgate
[/one_fourth_last]
[divider_top]