(32-37-9) Finished 5th in West Division

TRANSACTIONS
February 25 - Obtained Andy Brown from Detroit for a third round choice in the 1973 Amateur Draft and cash.
• Al McDonough recorded three hat tricks, October 11 (St. Louis), November 18 (Atlanta) and November 22 (St. Louis).
• Penguins set NHL record for the fastest five goals (2:07) and the fastest six goals (5:02) on November 22 vs. St. Louis.
• Syl Apps recorded six points (3+3) on December 13 vs. New York Islanders.
• Ken Schinkel was named the third Penguin coach on January 13, one day after retiring as a player.
• Greg Polis scored two goals in the All-Star Game at Madison Square Garden to win MVP honors.
• Penguins set a club record with 73 points (32-37-9).
• Syl Apps established a club record with 85 points (29+56).
• Al McDonough set club record with 35 goals.
[divider_top]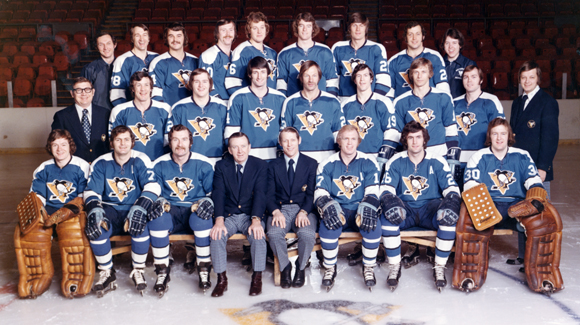 Front row: Jim Rutherford, Bryan Hextall, Duane Rupp, Jack Riley (General Manager), Ken Schinkel (Head Coach), Ron Schock, Syl Apps & Cam Newton
Middle row: Jack Button (Director of Player Personnel), Bryan Watson, Greg Polis, Dave Burrows, Eddie Shack, Jean Pronovost, Nick Harbaruk, Darryl Edestrand, & Terry Schiffhauer (PR)
Back row: Ken Carson (Trainer), Lowell MacDonald, Rick Kessel, Robin Burns, Sheldon Kannegiesser, Al McDonough, Jim Shires, Jean-Guy Legace & John Doolan (Equip. Manager)
[divider_top]
[three_fourth][TABLE=19]
1972-73 Pittsburgh Penguins Goaltending
| # | Goalie | GP | G | A | PTS | PIM | W | L | T | MIN | GA | GAA | SO | SV | PCT |
| --- | --- | --- | --- | --- | --- | --- | --- | --- | --- | --- | --- | --- | --- | --- | --- |
| 29 | Denis Herron | 18 | 0 | 1 | 1 | 0 | 6 | 7 | 2 | 967 | 55 | 3.41 | 2 | 0 | 0 |
| 30 | Cam Newton | 11 | 0 | 1 | 1 | 2 | 3 | 4 | 0 | 533 | 35 | 3.94 | 0 | 0 | 0 |
| 30 | Andy Brown | 9 | 0 | 0 | 0 | 2 | 3 | 4 | 2 | 520 | 41 | 4.73 | 0 | 0 | 0 |
| 1 | Jim Rutherford | 49 | 0 | 0 | 0 | 0 | 20 | 22 | 5 | 2660 | 129 | 2.91 | 0 | 0 | 0 |
[/three_fourth]
[one_fourth_last]
LEADERSHIP
Primary Owners:
Peter Block, Elmore Keener & Peter Burchfield
General Manager:
Jack Riley
Head Coachs:
Red Kelley & Ken Schinkel
Captain:
No captain
AWARDS
Rookie of the Year:
No winner
Player's Player:
Lowell MacDonald
Most Valuable Player:
Dave Burrows
Leading Scorer:
Syl Apss
Unsung Hero:
Lowell MacDonald
[/one_fourth_last]
[divider_top]