(31-36-13) Finished 4th in Patrick Division

TRANSACTIONS
June 29 - Obtained Pat Boutette and Kevin McClelland from Hartford as compensation for Hartford's signing of free agent Greg Millen.
June 30 - Signed Michel Dion as a free agent.
September 11 -Obtained Paul Harrison from Toronto for future considerations.
December 29 - Obtained Rick MacLeish from Hartford for Russ Anderson.
February 14 - Obtained Gary Edwards from St. Louis for an eighth round choice in the 1984 Entry Draft.
• Michel Dion was named starting goalie in NHL All-Star Game.
• Penguins broke the NY Islanders' 15-game winning streak with a 4-3 victory on February 21.
• Penguins scored 99 power-play goals to lead NHL.
• Mike Bullard's 37 goals are the most ever by a Penguins rookie.
• Paul Baxter set a franchise record with 409 penalty minutes.
[divider_top]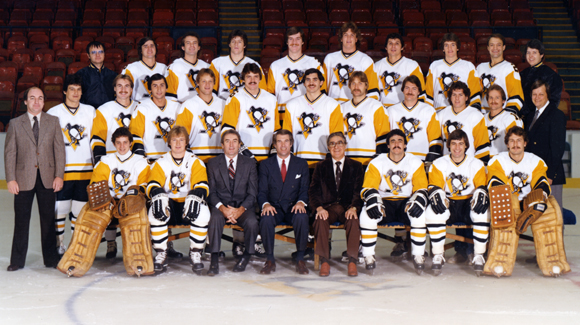 Front row: Michel Dion, Randy Carlyle, Ed Johnston (Head Coach), Paul Martha (Vice President), Aldege "Baz" Bastien (General Manager), Rick Kehoe, Greg Malone & Paul Harrison
Middle row: Mike Corrigan (Asst. Coach), Paul Baxter, Marc Chorney, Mario Faubert, Russ Anderson, Paul Mulvey, Ron Stackhouse, Pat Price, George Ferguson, Doug Shedden, Gregg Sheppard & Terry Schiffhauer (PR)
Back row: Steve Thomas (Trainer), Pat Boutette, Rod Schutt, Mike Bullard, Paul Gardner, Peter Lee, Mark Johnson, Gary Rissling & John Doolan (Equip. Manager)
[divider_top]
[three_fourth][TABLE=28]
1981-82 Pittsburgh Penguins Goaltending
| # | Goalie | GP | G | A | PTS | PIM | W | L | T | MIN | GA | GAA | SO | SV | PCT |
| --- | --- | --- | --- | --- | --- | --- | --- | --- | --- | --- | --- | --- | --- | --- | --- |
| 29 | Michel Dion | 62 | 0 | 1 | 1 | 4 | 25 | 24 | 12 | 3580 | 226 | 3.79 | 0 | 0 | 0 |
| | Michel Dion playoffs | 5 | 0 | 0 | 0 | 0 | 2 | 3 | - | 304 | 22 | 4.34 | 0 | | |
| | | | | | | | | | | | | | | | |
| 30 | Gary Edwards | 6 | 0 | 0 | 0 | 2 | 3 | 2 | 1 | 360 | 22 | 3.67 | 1 | 0 | 0 |
| 1 | Paul Harrison | 13 | 0 | 0 | 0 | 0 | 3 | 7 | 0 | 700 | 64 | 5.49 | 0 | 0 | 0 |
| 31 | Nick Ricci | 3 | 0 | 0 | 0 | 0 | 0 | 3 | 0 | 160 | 14 | 5.25 | 0 | 0 | 0 |
[/three_fourth]
[one_fourth_last]
LEADERSHIP
Primary Owners:
Edward J. Debartolo
General Manager:
Baz Bastien
Head Coach:
Ed Johnston
Captain:
Randy Carlyle
AWARDS
Rookie of the Year:
Mike Bullard
Player's Player:
Mike Bullard
Most Valuable Player:
Michel Dion
Booster Club:
Michel Dion
[/one_fourth_last]
[divider_top]