(32-40-8) Finished 5th in Patrick Division

TRANSACTIONS
June 17 - Obtained Randy Gilhen, Andrew McBain and Jim Kyte from Winnipeg for Randy Cunneyworth, Rick Tabaracci and Dave McLlwain.
January 8 - Obtained Rod Buskas, Tony Tanti and Barry Pederson from Vancouver for Dan Quinn, Andrew McBain and Dave Capuano.
• Wendell Young recorded the first Penguins' shutout in two seasons with a 6-0 blanking of the NY Rangers on November 14.
• Craig Patrick was named general manager and head coach on December 5, replacing Tony Esposito and Gene Ubriaco.
• Pittsburgh's Civic Arena played host to the NHL All-Star Game on January 21 and Penguins center Mario Lemieux scored four goals on his way to his third All-Star MVP Award.
• Buffalo defeated the Penguins in the final game of the regular season to knock the Penguins out of the playoffs.
• Mario Lemieux recorded a 46-game scoring streak (39-64-103), second longest in NHL history, from October 31 through February 11. The streak was halted when Lemieux left the Penguins-Rangers game with a back injury.
• The Penguins won seven home wins in a row from February 8 through March 17.
• Penguins drafted Czechoslovian right wing Jaromir Jagr with the fifth pick in the first round of the 1990 Entry Draft.
[divider_top]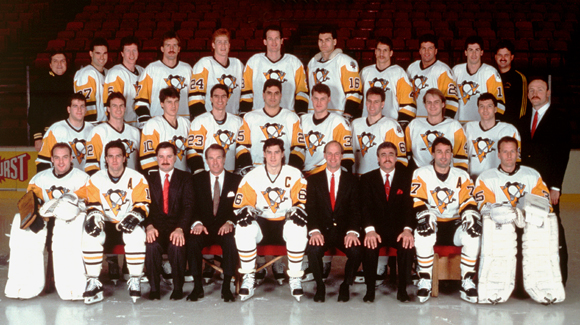 Front row: Wendell Young, John Cullen, Rick Patterson (Asst. Coach), Paul Martha (Vice President), Mario Lemieux, Craig Patrick (General Manager/Head Coach), Rick Kehoe (Asst. Coach), Paul Coffey & Tom Barrasso
Middle row: Mark Recchi, Bob Errey, Barry Pederson, Randy Hillier, Kevin Stevens, Zarley Zalapski, Jim Johnson, Rob Brown, Tony Tanti & John Welday (Conditioning Coach)
Back row: Skip Thayer (Trainer), Gilbert Delorme, Gord Dineen, Rod Buskas, Troy Loney, Jim Kyte, Jay Caufield, Chris Dahlquist, Phil Bourque, Randy Gilhen & Steve Latin (Equip. Manager)
[divider_top]
[three_fourth]
1989-90 Pittsburgh Penguins
Click on column headers to sort.
| # | Player | GP | G | A | PTS | PIM | . | GP | G | A | PTS | PIM |
| --- | --- | --- | --- | --- | --- | --- | --- | --- | --- | --- | --- | --- |
| 66 | Mario Lemieux | 59 | 45 | 78 | 123 | 78 | | - | - | - | - | - |
| 77 | Paul Coffey | 80 | 29 | 74 | 103 | 95 | | - | - | - | - | - |
| 11 | John Cullen | 72 | 32 | 60 | 92 | 138 | | - | - | - | - | - |
| 44 | Rob Brown | 80 | 33 | 47 | 80 | 102 | | - | - | - | - | - |
| 25 | Kevin Stevens | 76 | 29 | 41 | 70 | 171 | | - | - | - | - | - |
| 8 | Mark Recchi | 74 | 30 | 37 | 67 | 44 | | - | - | - | - | - |
| 29 | Phil Bourque | 76 | 22 | 17 | 39 | 108 | | - | - | - | - | - |
| 12 | Bob Errey | 78 | 20 | 19 | 39 | 109 | | - | - | - | - | - |
| 9 | Tony Tanti | 37 | 14 | 18 | 32 | 22 | | - | - | - | - | - |
| 33 | Zarley Zalapski | 51 | 6 | 25 | 31 | 37 | | - | - | - | - | - |
| 10 | Dan Quinn | 41 | 9 | 20 | 29 | 22 | | - | - | - | - | - |
| 24 | Troy Loney | 67 | 11 | 16 | 27 | 168 | | - | - | - | - | - |
| 10 | Barry Pederson | 38 | 4 | 18 | 22 | 29 | | - | - | - | - | - |
| 19 | Randy Gilhen | 61 | 5 | 11 | 16 | 54 | | - | - | - | - | - |
| 6 | Jim Johnson | 75 | 3 | 13 | 16 | 154 | | - | - | - | - | - |
| 23 | Randy Hillier | 61 | 3 | 12 | 15 | 71 | | - | - | - | - | - |
| 4 | Chris Dahlquist | 62 | 4 | 10 | 14 | 56 | | - | - | - | - | - |
| 9 | Andrew McBain | 41 | 5 | 9 | 14 | 51 | | - | - | - | - | - |
| 14 | Jock Callander | 30 | 4 | 7 | 11 | 49 | | - | - | - | - | - |
| 27 | Gilbert Delorme | 54 | 3 | 7 | 10 | 44 | | - | - | - | - | - |
| 5 | Gord Dineen | 69 | 1 | 8 | 9 | 125 | | - | - | - | - | - |
| 18 | Richard Zemlak | 19 | 1 | 5 | 6 | 43 | | - | - | - | - | - |
| 3 | Jim Kyte | 56 | 3 | 1 | 4 | 125 | | - | - | - | - | - |
| 16 | Jay Caufield | 37 | 1 | 2 | 3 | 123 | | - | - | - | - | - |
| 20 | Jamie Leach | 10 | 0 | 3 | 3 | 0 | | - | - | - | - | - |
| 15 | Doug Smith | 10 | 1 | 1 | 2 | 25 | | - | - | - | - | - |
| 26 | Mark Kachowski | 14 | 0 | 1 | 1 | 40 | | - | - | - | - | - |
| 7 | Rod Buskas | 6 | 0 | 0 | 0 | 13 | | - | - | - | - | - |
| 15 | Dave Capuano | 6 | 0 | 0 | 0 | 2 | | - | - | - | - | - |
1989-90 Pittsburgh Penguins Goaltending
| # | Goalie | GP | G | A | PTS | PIM | W | L | T | MIN | GA | GAA | SO | SV | PCT |
| --- | --- | --- | --- | --- | --- | --- | --- | --- | --- | --- | --- | --- | --- | --- | --- |
| 1 | Wendell Young | 43 | 0 | 4 | 4 | 8 | 16 | 20 | 3 | 2318 | 161 | 4.17 | 1 | 1106 | 0.873 |
| 30 | Alain Chevrier | 3 | 0 | 1 | 1 | 2 | 1 | 2 | 0 | 166 | 14 | 5.06 | 0 | 75 | 0.843 |
| 35 | Tom Barrasso | 24 | 0 | 0 | 0 | 8 | 7 | 12 | 3 | 1294 | 101 | 4.68 | 2 | 647 | 0.865 |
| 40 | Frank Pietrangelo | 21 | 0 | 0 | 0 | 2 | 8 | 6 | 2 | 1066 | 77 | 4.33 | 0 | 503 | 0.867 |
[/three_fourth]
[one_fourth_last]
LEADERSHIP

Primary Owner:
Edward J. Debartolo
General Manager:
Tony Esposito & Craig Patrick
Head Coach:
Gene Ubriaco & Craig Patrick
Captain:
Mario Lemieux
AWARDS
Rookie of the Year:
Mark Recchi
Player's Player:
Randy Hillier
Most Valuable Player:
Mario Lemieux
Booster Club:
Mario Lemieux
Masterton Nominee:
Mario Lemieux
Baz Bastien Good Guy:
Troy Loney
[/one_fourth_last]
[divider_top]