(56-21-7) Finished 1st in Patrick Division, President's Trophy

TRANSACTIONS
March 22 - Obtained Peter Taglianetti from Tampa Bay for a third round choice in the 1993 Entry Draft.
March 22 - Obtained Mike Ramsey from Buffalo for Bob Errey.
• Scott Bowman was named head coach on October 6, 1992.
• The Penguins started the season with a 10-game unbeaten streak (8-0-2) from October 6 to October 27.
• Mario Lemieux scored a goal in 12 consecutive games from October 6 to November 1 to set a club record. He recorded 18 goals during that streak.
• Larry Murphy became only one of nine defensemen in NHL history to record 800 points, recording his 800th on January 26 vs. the Washington Capitals.
• The Pens set a club record for most road victories in a season with their 24th win on March 14, against the New York Islanders.
• Mario Lemieux scored four goals in back-to-back games, March 18 vs. Washington and March 20 vs. Philadelphia; the second player in club history to do so.
• Penguins clinched their second Patrick Division title in three years on March 28 with a 4-1 win at Washington.
• Tom Barrasso set a club record with 14 consecutive victories from March 9 to April 9.
• Penguins clinched first-ever President's Trophy – best overall record in the league – with a 5-3 win at Quebec on April 3, with their 110th point of the season.
• Penguins set NHL record for the longest winning streak, winning 17-consecutive games from March 9 to April 9 breaking the New York Islanders record set in 1981-82.
[divider_top]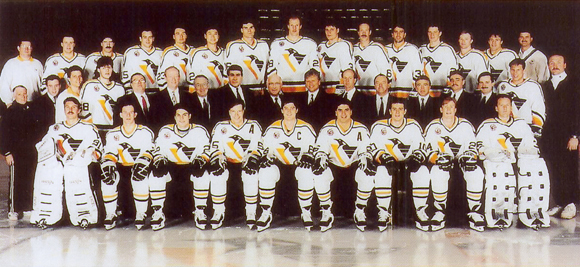 Front row: Ken Wregget, Joe Mullen, Rick Tocchet, Larry Murphy, Mario Lemieux, Kevin Stevens, Ron Francis, Troy Loney, & Tom Barrasso
Middle row: A.T. Caggiano (Locker room), Howard Baldwin Jr. (Video Coordinator), Jim Kittleberger (Physical Therapist), Jaromir Jagr, Donn Patton (COO), Bill Barnes (Sr. VP /PR), Jack Kelly (President), Thomas Ruta (Co-Owner), Morris Belzberg (Co-Owner), Howard Baldwin (Co-Owner), Craig Patrick (Exec. VP /General Manager), Scott Bowman (Head Coach), Barry Smith (Asst. Coach), Rick Kehoe (Asst. Coach), Rick Patterson (Asst. Coach), Ulf Samuelsson & John Welday (Strength Coach)
Back row: Clark Osborn (Trainer), Martin Straka, Dave Tippett, Shawn McEachern, Paul Stanton, Jim Paek, Jay Caufield, Kjell Samuelsson, Grant Jennings, Mike Ramsey, Peter Taglianetti, Jeff Daniels, Mike Needham, Mike Stapleton & Steve Latin (Equip. Manager)
[divider_top]
[three_fourth]
1992-93 Pittsburgh Penguins
Click on column headers to sort.
| # | Player | GP | G | A | PTS | PIM | . | GP | G | A | PTS | PIM |
| --- | --- | --- | --- | --- | --- | --- | --- | --- | --- | --- | --- | --- |
| 66 | Mario Lemieux | 60 | 69 | 91 | 160 | 38 | | 11 | 8 | 10 | 18 | 10 |
| 25 | Kevin Stevens | 72 | 55 | 56 | 111 | 177 | | 12 | 5 | 11 | 16 | 22 |
| 22 | Rick Tocchet | 80 | 48 | 61 | 109 | 252 | | 12 | 7 | 6 | 13 | 24 |
| 10 | Ron Francis | 84 | 24 | 76 | 100 | 68 | | 12 | 6 | 11 | 17 | 19 |
| 68 | Jaromir Jagr | 81 | 34 | 60 | 94 | 61 | | 12 | 5 | 4 | 9 | 23 |
| 55 | Larry Murphy | 83 | 22 | 63 | 85 | 73 | | 12 | 2 | 11 | 13 | 10 |
| 7 | Joe Mullen | 72 | 33 | 37 | 70 | 14 | | 12 | 4 | 2 | 6 | 6 |
| 15 | Shawn McEachern | 84 | 28 | 33 | 61 | 46 | | 12 | 3 | 2 | 5 | 10 |
| 5 | Ulf Samuelsson | 77 | 3 | 26 | 29 | 249 | | 12 | 1 | 5 | 6 | 24 |
| 14 | Dave Tippett | 74 | 6 | 19 | 25 | 56 | | 12 | 1 | 4 | 5 | 14 |
| 24 | Troy Loney | 82 | 5 | 16 | 21 | 99 | | 10 | 1 | 4 | 5 | 0 |
| 2 | Jim Paek | 77 | 3 | 15 | 18 | 64 | | - | - | - | - | - |
| 23 | Paul Stanton | 77 | 4 | 12 | 16 | 97 | | 1 | 0 | 1 | 1 | 0 |
| 82 | Martin Straka | 42 | 3 | 13 | 16 | 29 | | 11 | 2 | 1 | 3 | 2 |
| 12 | Bob Errey | 54 | 8 | 6 | 14 | 76 | | - | - | - | - | - |
| 39 | Mike Needham | 56 | 8 | 5 | 13 | 14 | | 9 | 1 | 0 | 1 | 2 |
| 26 | Mike Stapleton | 78 | 4 | 9 | 13 | 10 | | 4 | 0 | 0 | 0 | 0 |
| 20 | Jeff Daniels | 58 | 5 | 4 | 9 | 14 | | 12 | 3 | 2 | 5 | 0 |
| 28 | Kjell Samuelsson | 63 | 3 | 6 | 9 | 106 | | 12 | 0 | 3 | 3 | 2 |
| 3 | Grant Jennings | 58 | 0 | 5 | 5 | 65 | | 12 | 0 | 0 | 0 | 8 |
| 32 | Peter Taglianetti | 11 | 1 | 4 | 5 | 34 | | 11 | 1 | 2 | 3 | 16 |
| 33 | Bryan Fogarty | 12 | 0 | 4 | 4 | 4 | | - | - | - | - | - |
| 6 | Mike Ramsey | 12 | 1 | 2 | 3 | 8 | | 12 | 0 | 6 | 6 | 4 |
| 6 | Peter Ahola | 22 | 0 | 1 | 1 | 14 | | - | - | - | - | - |
| 16 | Jay Caufield | 26 | 0 | 0 | 0 | 60 | | - | - | - | - | - |
| 6 | Jeff Chychrun | 1 | 0 | 0 | 0 | 2 | | - | - | - | - | - |
| 20 | Jamie Leach | 5 | 0 | 0 | 0 | 2 | | - | - | - | - | - |
1992-93 Pittsburgh Penguins Goaltending
| # | Goalie | GP | G | A | PTS | PIM | W | L | T | MIN | GA | GAA | SO | SV | PCT |
| --- | --- | --- | --- | --- | --- | --- | --- | --- | --- | --- | --- | --- | --- | --- | --- |
| 35 | Tom Barrasso | 63 | 0 | 8 | 8 | 24 | 43 | 14 | 5 | 3702 | 186 | 3.01 | 4 | 1699 | 0.901 |
| | Tom Barrasso playoffs | 12 | | 4 | 4 | 0 | 7 | 5 | - | 722 | 35 | 3 | 2 | | |
| | | | | | | | | | | | | | | | |
| 31 | Ken Wregget | 25 | 0 | 1 | 1 | 6 | 13 | 7 | 2 | 1368 | 78 | 3.42 | 0 | 614 | 0.887 |
[/three_fourth]
[one_fourth_last]
LEADERSHIP

Primary Owner:
Howard Baldwin, Moris Belzberg & Thomas Ruta
General Manager:
Craig Patrick
Head Coach:
Scotty Bowman
Captain:
Mario Lemieux
AWARDS
Rookie of the Year:
Shawn McEachern
Player's Player:
Mario Lemieux
Most Valuable Player:
Mario Lemieux
Booster Club:
Mario Lemieux

Masterton Nominee:
Mario Lemieux 
Baz Bastien Good Guy:
Kevin Stevins
Edward J. Debartolo:
Jim Paek & Shawn McEachren
[/one_fourth_last]
[divider_top]