(29-16-3) Finished 2nd in Northeast Division

TRANSACTIONS
February 16 - Obtained Wendell Young from Tampa Bay for future considerations.
April 7 - Obtained Norm Maciver and Troy Murray from Ottawa for Martin Straka.
April 7 - Obtained Drake Berehowsky from Toronto for Grant Jennings.
The season was shortened by a labor dispute (timeline above starts on January 20)
• Joe Mullen became the first American-born player to record 1,000 points, with an assist on February 7, against the Florida Panthers.
• Larry Murphy recorded his 700th career assist on March 4 against the Boston Bruins.
• Jarmoir Jagr recorded an assist on May 3 and became the first European-trained player to win the Art Ross Trophy as NHL scoring champion.
• Ron Francis won the overall league plus/minus award with a plus-30 rating.
• Francis became the first Penguin to win the Selke Trophy and the second to win the Lady Byng on July 8.
• Jaromir Jagr was named to the NHL First All-Star Team at right wing and Larry Murphy was named to the Second Team on defense July 8.
[divider_top]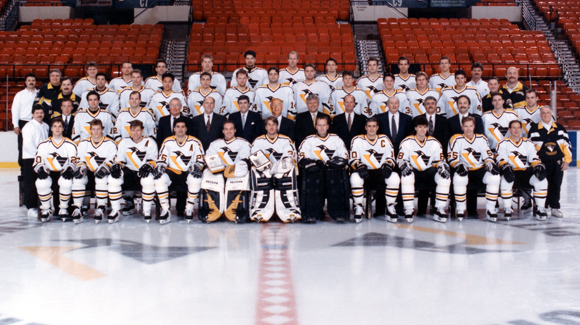 Front row: Luc Robitaille, Tomas Sandstrom, Ulf Samuelsson, Kevin Stevens, Wendell Young, Tom Barrasso, Ron Francis, Jaromir Jagr, Larry Murphy & Joe Mullen
Second row: Paul Flati (Asst. Equip. Manager), Howard Baldwin Jr., John Cullen, Troy Murray, Jack Kelley (President). Roy Mlakar (COO), Thomas Ruta (Co-Owner), Morris Belzberg (Co-Owner), Howard Baldwin (Co-Owner), Craig Patrick (General Manager), Ed Johnston (Head Coach), Rick Kehoe (Asst. coach), Bryan Trottier (Asst. coach), Norm Maciever, Shawn MacEachern & A.T. Caggiano (Locker room staff)
Third row: Bert Godin (Asst. Equip. Manager), Skip Thayer (Trainer), Rick Patterson (Scout), Phillipe DeRouville, Ed Patterson, Richard Park, Domenic Pettis, Jeff Christian, Joe Dziedzic, Chris Wells, Greg Andrusak, Ian Moran, Markus Naslund, Patrick Lalime, Gilles Meloche (Goaltending Coach) & John Welday (Strength Coach)
Back row: Len Barrie, Rusty Fitzgerald, Peter Taglianetti, Jim McKenzie, Francois Leroux, Kjell Samuelsson, Chris Tamer, Drake Berehowsy, Chris Joseph, Mike Hudson & Steve Latin (Equip. Manager)
[divider_top]
[three_fourth]
1994-95 Pittsburgh Penguins
Click on column headers to sort.
| # | Player | GP | G | A | PTS | PIM | . | GP | G | A | PTS | PIM |
| --- | --- | --- | --- | --- | --- | --- | --- | --- | --- | --- | --- | --- |
| 68 | Jaromir Jagr | 48 | 32 | 38 | 70 | 37 | | 12 | 10 | 5 | 15 | 6 |
| 10 | Ron Francis | 44 | 11 | 48 | 59 | 18 | | 12 | 6 | 13 | 19 | 4 |
| 17 | Tomas Sandstrom | 47 | 21 | 23 | 44 | 42 | | 12 | 3 | 3 | 6 | 16 |
| 20 | Luc Robitaille | 46 | 23 | 19 | 42 | 37 | | 12 | 7 | 4 | 11 | 26 |
| 55 | Larry Murphy | 48 | 13 | 25 | 38 | 18 | | 12 | 2 | 13 | 15 | 0 |
| 11 | John Cullen | 46 | 13 | 24 | 37 | 66 | | 9 | 0 | 2 | 0 | 8 |
| 7 | Joe Mullen | 45 | 16 | 21 | 37 | 6 | | 12 | 0 | 3 | 3 | 4 |
| 25 | Kevin Stevens | 27 | 15 | 12 | 27 | 51 | | 12 | 4 | 7 | 11 | 21 |
| 15 | Shawn McEachern | 44 | 13 | 13 | 26 | 22 | | 11 | 0 | 2 | 2 | 8 |
| 5 | Ulf Samuelsson | 44 | 1 | 15 | 16 | 113 | | 7 | 0 | 2 | 2 | 8 |
| 82 | Martin Straka | 31 | 4 | 12 | 16 | 16 | | - | - | - | - | - |
| 23 | Chris Joseph | 33 | 5 | 10 | 15 | 46 | | 10 | 1 | 1 | 2 | 12 |
| 9 | Len Barrie | 48 | 3 | 11 | 14 | 66 | | 4 | 1 | 0 | 1 | 8 |
| 16 | Mike Hudson | 40 | 2 | 9 | 11 | 34 | | 11 | 0 | 0 | 0 | 6 |
| 22 | Norm Maciver | 13 | 0 | 9 | 9 | 6 | | 12 | 1 | 4 | 5 | 8 |
| 28 | Kjell Samuelsson | 41 | 1 | 6 | 7 | 54 | | 11 | 0 | 1 | 1 | 32 |
| 4 | Greg Hawgood | 21 | 1 | 4 | 5 | 25 | | - | - | - | - | - |
| 37 | Greg Andrusak | 7 | 0 | 4 | 4 | 6 | | - | - | - | - | - |
| 3 | Grant Jennings | 25 | 0 | 4 | 4 | 36 | | - | - | - | - | - |
| 29 | Markus Naslund | 14 | 2 | 2 | 4 | 2 | | - | - | - | - | - |
| 33 | Jim McKenzie | 39 | 2 | 1 | 3 | 63 | | 5 | 0 | 0 | 0 | 4 |
| 18 | Francois Leroux | 40 | 0 | 2 | 2 | 114 | | - | - | - | - | - |
| 12 | Troy Murray | 13 | 0 | 2 | 2 | 23 | | 12 | 2 | 1 | 3 | 12 |
| 2 | Chris Tamer | 36 | 2 | 0 | 2 | 82 | | 4 | 0 | 0 | 0 | 18 |
| 34 | Rusty Fitzgerald | 4 | 1 | 0 | 1 | 0 | | 5 | 0 | 0 | 0 | 4 |
| 26 | Richard Park | 1 | 0 | 1 | 1 | 2 | | 3 | 0 | 0 | 0 | 2 |
| 32 | Peter Taglianetti | 13 | 0 | 1 | 1 | 12 | | 4 | 0 | 0 | 0 | 2 |
| 44 | Drake Berehowsky | 4 | 0 | 0 | 0 | 13 | | 1 | 0 | 0 | 0 | 0 |
| 34 | Jeff Christian | 1 | 0 | 0 | 0 | 0 | | - | - | - | - | - |
| 24 | Ian Moran | 0 | 0 | 0 | 0 | 0 | | 8 | 0 | 0 | 0 | 0 |
1994-95 Pittsburgh Penguins Goaltending
| # | Goalie | GP | G | A | PTS | PIM | W | L | T | MIN | GA | GAA | SO | SV | PCT |
| --- | --- | --- | --- | --- | --- | --- | --- | --- | --- | --- | --- | --- | --- | --- | --- |
| 31 | Ken Wregget | 38 | 0 | 0 | 0 | 14 | 25 | 9 | 2 | 2208 | 118 | 3.21 | 0 | 1101 | 0.903 |
| | Ken Wregget playoffs | 11 | 0 | 0 | 0 | 7 | 5 | 6 | - | 661 | 33 | 3 | 1 | | |
| | | | | | | | | | | | | | | | |
| 1 | Wendell Young | 10 | 0 | 0 | 0 | 2 | 3 | 6 | 0 | 497 | 27 | 3.26 | 0 | 228 | 0.894 |
| 35 | Tom Barrasso | 2 | 0 | 0 | 0 | 0 | 0 | 1 | 1 | 125 | 8 | 3.84 | 0 | 67 | 0.893 |
| | Tom Barrasso playoffs | 2 | 0 | 0 | 0 | 0 | 0 | 1 | - | 80 | 8 | 6 | 0 | | |
| | | | | | | | | | | | | | | | |
| 30 | Philippe DeRouville | 1 | 0 | 0 | 0 | 0 | 1 | 0 | 0 | 60 | 3 | 3 | 0 | 24 | 0.889 |
[/three_fourth]
[one_fourth_last]
LEADERSHIP
Primary Owner:
Howard Baldwin, Moris Belzberg & Thomas Ruta
General Manager:
Craig Patrick
Head Coach:
Ed Johnston
Captain:
Ron Francis
AWARDS
Rookie of the Year:
No winner
Player's Player:
Ron Francis
Most Valuable Player:
Jaromir Jagr
Booster Club:
Jaromir Jagr
Masterton Nominee:
John Cullen
Baz Bastien Good Guy:
Larry Murphy
Edward J. Debartolo:
Ron Francis & Bryan Trottier
Bob Johnson Memorial:
Ron Francis & Joe Mullen
[/one_fourth_last]
[divider_top]