(36-38-8) Finished 2nd in Eastern Conference

TRANSACTIONS
June 22 - Obtained Kevin Hatcher from Dallas for Sergei Zubov.
November 17 - Obtained Darius Kasparaitis and Andreas Johansson from the New York Islanders for Bryan Smolinski.
November 19 - Obtained Stu Barnes and Jason Wooley from Florida for Chris Wells.
November 19 - Obtained Alex Hicks and Fredrik Olausson from Anaheim for Shawn Antoski and Dmitri Mironov.
March 18 - Obtained Eddie Olczyk from Los Angeles for Glen Murray.
• Joey Mullen became the first U.S.-born player to score 500 goals, on March 14 against the Colorado Avalanche. Mullen was the second Penguins' player to score 500 (Mario Lemieux)
• Mario Lemieux scored his 600th career goal on February 4, against the Vancouver Canucks.
• Ron Francis scored his 400th career goal March 29, against the Los Angeles Kings.
• Lemieux scored four goals in one period, tying the NHL record for most goals in a period, on January 26 against the Montreal Canadiens.
• Lemieux became the ninth player in NHL History to record 1,400 points, on November 30 against the Boston Bruins.
• Jaomir Jagr notched his 600th career point January 4 vs the Tampa Bay Lighntning.
• Patrick Lalime set the NHL record for longest unbeaten streak by a rookie goaltender at the start of his career by going 14-0-2.
• Lemieux won his sixth Art Ross Trophy, leading the league in scoring with 122 points.
• Craig Patrick replaced Ed Johnston as head coach on March 3, 1997.
[divider_top]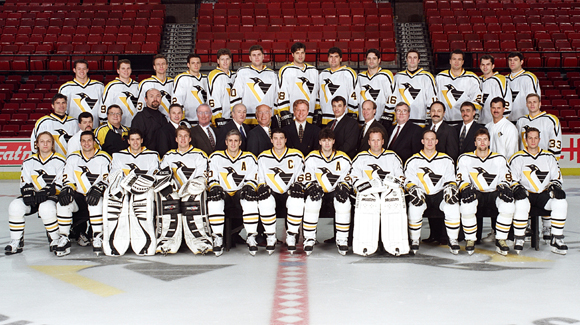 Front row: Darius Kasparaitus, Ed Olczyk, Patrick Lalime, Ken Wregget, Ron Francis, Mario Lemieux, Jaromir Jagr, Tom Barrasso, Joe Mullen, Petr Nedved & Stu Barnes
Middle row: Garry Valk, Paul Flati (Asst. Equip. Manager), Skip Thayer (Trainer), John Welday (Conditioning Coach), Gilles Meloche (Goaltending Coach), Jack Kelley (President), Ed Johnston (Head Coach), Morris Belzberg (Co-Owner), Howard Baldwin (Co-Owner), Thomas Ruta (Co-Owner), Craig Patrick (General Manager), Donn Patton (Finance), Bryan Trottier (Asst. Coach), Rick Kehoe (Asst. Coach), Steve Latin (Equip. Manager) & Alex Hicks
Back row: Ian Moran, Greg Johnson, Fredrik Olausson, Chris Tamer, Neil Wilkinson, Roman Okisuta, Francois Leroux, Kvin Hatcher, Joe Dziedzic, Josef Beranek, Craig Muni, Jason Wooley & Alek Stojanov
[divider_top]
[three_fourth]
1996-97 Pittsburgh Penguins
Click on column headers to sort.
| # | Player | GP | G | A | PTS | PIM | . | GP | G | A | PTS | PIM |
| --- | --- | --- | --- | --- | --- | --- | --- | --- | --- | --- | --- | --- |
| 66 | Mario Lemieux | 76 | 50 | 72 | 122 | 65 | | 5 | 3 | 3 | 6 | 4 |
| 68 | Jaromir Jagr | 63 | 47 | 48 | 95 | 40 | | 5 | 4 | 4 | 8 | 4 |
| 10 | Ron Francis | 81 | 27 | 63 | 90 | 20 | | 5 | 1 | 2 | 3 | 2 |
| 93 | Petr Nedved | 74 | 33 | 38 | 71 | 66 | | 5 | 1 | 2 | 3 | 12 |
| 4 | Kevin Hatcher | 80 | 15 | 39 | 54 | 103 | | 5 | 1 | 1 | 2 | 4 |
| 14 | Stu Barnes | 62 | 17 | 22 | 39 | 16 | | 5 | 0 | 1 | 1 | 0 |
| 22 | Jason Woolley | 57 | 6 | 30 | 36 | 28 | | 5 | 0 | 3 | 3 | 0 |
| 23 | Fredrik Olausson | 51 | 7 | 20 | 27 | 24 | | 4 | 0 | 1 | 1 | 0 |
| 28 | Tomas Sandstrom | 40 | 9 | 15 | 24 | 33 | | - | - | - | - | - |
| 7 | Joe Mullen | 54 | 7 | 15 | 22 | 4 | | 1 | 0 | 0 | 0 | 0 |
| 27 | Glen Murray | 66 | 11 | 11 | 22 | 24 | | - | - | - | - | - |
| 33 | Alex Hicks | 55 | 5 | 15 | 20 | 76 | | 5 | 0 | 1 | 1 | 2 |
| 16 | Joe Dziedzic | 59 | 9 | 9 | 18 | 63 | | 5 | 0 | 1 | 1 | 4 |
| 26 & 11 | Darius Kasparaitis | 57 | 2 | 16 | 18 | 84 | | 5 | 0 | 0 | 0 | 6 |
| 36 | J.J. Daigneault | 53 | 3 | 14 | 17 | 36 | | - | - | - | - | - |
| 9 | Greg Johnson | 32 | 7 | 9 | 16 | 14 | | 5 | 1 | 0 | 1 | 2 |
| 27 | Ed Olczyk | 12 | 4 | 7 | 11 | 6 | | 5 | 1 | 0 | 1 | 12 |
| 51 | David Roche | 61 | 5 | 5 | 10 | 155 | | - | - | - | - | - |
| 38 | Andreas Johansson | 27 | 2 | 7 | 9 | 20 | | - | - | - | - | - |
| 24 | Ian Moran | 36 | 4 | 5 | 9 | 22 | | 5 | 1 | 2 | 3 | 4 |
| 8 | Garry Valk | 17 | 3 | 4 | 7 | 25 | | - | - | - | - | - |
| 15 | Dmitri Mironov | 15 | 1 | 5 | 6 | 24 | | - | - | - | - | - |
| 2 | Chris Tamer | 45 | 2 | 4 | 6 | 131 | | 4 | 0 | 0 | 0 | 4 |
| 25 | Alek Stojanov | 35 | 1 | 4 | 5 | 79 | | - | - | - | - | - |
| 15 | Josef Beranek | 8 | 3 | 1 | 4 | 4 | | 5 | 0 | 0 | 0 | 2 |
| 72 | Jeff Christian | 11 | 2 | 2 | 4 | 13 | | - | - | - | - | - |
| 85 | Petr Klima | 9 | 1 | 3 | 4 | 4 | | - | - | - | - | - |
| 28 | Craig Muni | 64 | 0 | 4 | 4 | 36 | | 3 | 0 | 0 | 0 | 0 |
| 29 | Tyler Wright | 45 | 2 | 2 | 4 | 70 | | - | - | - | - | - |
| 18 | Francois Leroux | 59 | 0 | 3 | 3 | 81 | | 3 | 0 | 0 | 0 | 0 |
| 9 | Dan Quinn | 16 | 0 | 3 | 3 | 10 | | - | - | - | - | - |
| 19 | Shawn Antoski | 13 | 0 | 0 | 0 | 49 | | - | - | - | - | - |
| 3 | Stefan Bergkvist | 5 | 0 | 0 | 0 | 7 | | - | - | - | - | - |
| 20 | Roman Oksiuta | 7 | 0 | 0 | 0 | 4 | | - | - | - | - | - |
| 32 | Richard Park | 1 | 0 | 0 | 0 | 0 | | - | - | - | - | - |
| 44 | Ed Patterson | 6 | 0 | 0 | 0 | 8 | | - | - | - | - | - |
| 23 | Domenic Pittis | 1 | 0 | 0 | 0 | 0 | | - | - | - | - | - |
| 6 | Neil Wilkinson | 23 | 0 | 0 | 0 | 36 | | 5 | 0 | 0 | 0 | 4 |
1996-97 Pittsburgh Penguins Goaltending
| # | Goalie | GP | G | A | PTS | PIM | W | L | T | MIN | GA | GAA | SO | SV | PCT |
| --- | --- | --- | --- | --- | --- | --- | --- | --- | --- | --- | --- | --- | --- | --- | --- |
| 31 | Ken Wregget | 46 | 0 | 1 | 1 | 6 | 17 | 17 | 6 | 2514 | 136 | 3.25 | 2 | 1247 | 0.902 |
| | Ken Wregget playoffs | 5 | | | | | 1 | 4 | | 297 | 18 | 3.64 | | | |
| | | | | | | | | | | | | | | | |
| 40 | Patrick Lalime | 39 | 0 | 0 | 0 | 0 | 21 | 12 | 2 | 2058 | 101 | 2.94 | 3 | 1065 | 0.913 |
| 35 | Tom Barrasso | 5 | 0 | 0 | 0 | 0 | 0 | 5 | 0 | 270 | 26 | 5.78 | 0 | 160 | 0.86 |
| 30 | Philippe DeRouville | 2 | 0 | 0 | 0 | 0 | 0 | 2 | 0 | 111 | 6 | 3.24 | 0 | 60 | 0.909 |
[/three_fourth]
[one_fourth_last]
LEADERSHIP

Primary Owner:
Howard Baldwin, Moris Belzberg & Thomas Ruta
General Manager:
Craig Patrick
Head Coach:
Ed Johnston & Craig Patrick
Captain:
Mario Lemieux
AWARDS
Rookie of the Year:
Patrick Lalime
Player's Player:
Joe Mullen
Most Valuable Player:
Mario Lemieux
Booster Club:
Mario Lemieux
Masterton Nominee:
Joe Mullen
Baz Bastien Good Guy:
Ken Wregget
Edward J. Debartolo:
Joe Dziedzic & Chris Tamer
Bob Johnson Memorial:
Joe Mullen
[/one_fourth_last]
[divider_top]