(38-30-14) Finished 8th in Eastern Division

TRANSACTIONS
June 17 - Obtained German Titov and Todd Hlushko form Calgary for Ken Wregget and Dave Roche
November 26 - Obtained Alexei Kovalev, Harry York and future considerations from New York Rangers for Petr Nedved, Chris tamer and Sean Pronger.
March 11 - Obtained Matthew Barnaby from Buffalo for Stu Barnes.
• Jaromir Jagr notched his 800th career point January 31 against the Montreal Candiens.
• The Penguins won five consecutive overtime games for the first time in club history and led the NHL with 28 overtime points.
• Penguins won ten games in a row, January 28 – February 15, the second longest winning streak in team history.
• Tom Barrasso, Peter Skudra and J.S. Aubin all record shutouts, making it the first time in club history that three different goalies earned shutouts in one season.
• Jaromir Jagr captured his first Hart Trophy as league MVP, Jagr also won his third Art Ross Trophy as the league's leading scorer.
[divider_top]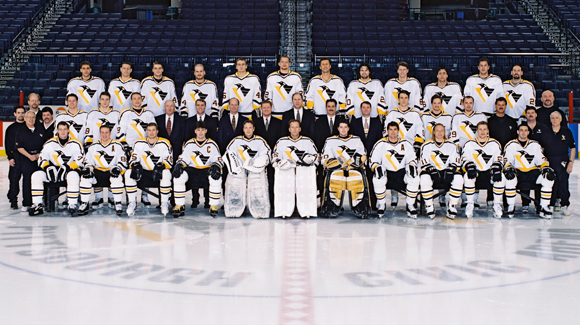 Front row: Jiri Slegr, Martin Straka, Aleksey Morozov, Jaromir Jagr, Peter Skudra, Tom Barrasso, Jean-Seabstien Aubin, Kevin Hatcher, Darius Kasparaitus, Alexei Kovalev & Matthew Barnaby
Middle row: Paul DeFazio, Frank Scuilli, Scott Johnson, Paul Flati, Ian Moran, Jiri Hrdina, German Titov, Ed Johnston (Asst. General Manager), Mike Eaves (Asst. Coach), Craig Patrick (General Manager), Kevin Constantine (Head Coach), Don Jackson (Asst. Coach), Troy Ward (Asst. Coach), Roger Marino (Owner), Brad Werenka, Kip Miller, Tyler Wright, Steve Latin (Equip. Manager), Mark Mortland (Trainer), John Welday (Strength Coach) & A.T. Caggiano
Back row: Ryan Savoia, Martin Sonnenberg, Maxim Galonov, Rob Brown, PAvel Skrbek, Sven Butenschon, Bobby Dollas, Robert Lang, Neil Wilkinson, Jeff Serowik, Victor Ignatiev & Dan Kesa
[divider_top]
[three_fourth]
1998-99 Pittsburgh Penguins
Click on column headers to sort.
| # | Player | GP | G | A | PTS | PIM | . | GP | G | A | PTS | PIM |
| --- | --- | --- | --- | --- | --- | --- | --- | --- | --- | --- | --- | --- |
| 68 | Jaromir Jagr | 81 | 44 | 83 | 127 | 66 | | 9 | 5 | 7 | 12 | 16 |
| 82 | Martin Straka | 80 | 35 | 48 | 83 | 26 | | 13 | 6 | 9 | 15 | 6 |
| 9 | German Titov | 72 | 11 | 45 | 56 | 34 | | 11 | 3 | 5 | 8 | 4 |
| 27 | Alexei Kovalev | 63 | 20 | 26 | 46 | 37 | | 10 | 5 | 7 | 12 | 14 |
| 20 | Robert Lang | 72 | 21 | 23 | 44 | 24 | | 12 | 0 | 2 | 2 | 0 |
| 38 | Jan Hrdina | 82 | 13 | 29 | 42 | 40 | | 13 | 4 | 1 | 5 | 12 |
| 37 | Kip Miller | 77 | 19 | 23 | 42 | 22 | | 13 | 2 | 7 | 9 | 19 |
| 4 | Kevin Hatcher | 66 | 11 | 27 | 38 | 24 | | 13 | 2 | 3 | 5 | 4 |
| 14 | Stu Barnes | 64 | 20 | 12 | 32 | 20 | | - | - | - | - | - |
| 44 | Rob Brown | 58 | 13 | 11 | 24 | 16 | | 13 | 2 | 5 | 7 | 8 |
| 5 | Brad Werenka | 81 | 6 | 18 | 24 | 93 | | 13 | 1 | 1 | 2 | 6 |
| 71 | Jiri Slegr | 63 | 3 | 20 | 23 | 86 | | 13 | 1 | 3 | 4 | 12 |
| 95 | Aleksey Morozov | 67 | 9 | 10 | 19 | 14 | | 10 | 1 | 1 | 2 | 0 |
| 8 | Bobby Dollas | 70 | 2 | 8 | 10 | 60 | | 13 | 1 | 0 | 1 | 6 |
| 25 | Dan Kesa | 67 | 2 | 8 | 10 | 27 | | 13 | 1 | 0 | 1 | 0 |
| 24 | Ian Moran | 62 | 4 | 5 | 9 | 37 | | 13 | 0 | 2 | 2 | 8 |
| 47 | Maxim Galanov | 51 | 4 | 3 | 7 | 14 | | 1 | 0 | 0 | 0 | 0 |
| 16 | Jeff Serowik | 26 | 0 | 6 | 6 | 16 | | - | - | - | - | - |
| 11 | Darius Kasparaitis | 48 | 1 | 4 | 5 | 70 | | - | - | - | - | - |
| 36 | Matthew Barnaby | 18 | 2 | 2 | 4 | 34 | | 13 | 0 | 0 | 0 | 35 |
| 12 | Martin Sonnenberg | 44 | 1 | 1 | 2 | 19 | | 7 | 0 | 0 | 0 | 0 |
| 49 | Greg Andrusak | 7 | 0 | 1 | 1 | 4 | | 12 | 1 | 0 | 1 | 6 |
| 23 | Victor Ignatjev | 11 | 0 | 1 | 1 | 6 | | 1 | 0 | 0 | 0 | 2 |
| 18 | Patrick Lebeau | 8 | 1 | 0 | 1 | 2 | | - | - | - | - | - |
| 17 | Brian Bonin | 5 | 0 | 0 | 0 | 0 | | 3 | 0 | 0 | 0 | 0 |
| 22 | Sven Butenschon | 17 | 0 | 0 | 0 | 6 | | - | - | - | - | - |
| 28 | Todd Hlushko | 0 | 0 | 0 | 0 | 0 | | 2 | 0 | 0 | 0 | 0 |
| 12 | Sean Pronger | 2 | 0 | 0 | 0 | 0 | | - | - | - | - | - |
| 18 | Ryan Savoia | 3 | 0 | 0 | 0 | 0 | | - | - | - | - | - |
| 46 | Pavel Skrbek | 4 | 0 | 0 | 0 | 2 | | - | - | - | - | - |
| 2 | Chris Tamer | 11 | 0 | 0 | 0 | 32 | | - | - | - | - | - |
| 6 | Neil Wilkinson | 24 | 0 | 0 | 0 | 22 | | - | - | - | - | - |
| 29 | Tyler Wright | 61 | 0 | 0 | 0 | 90 | | 13 | 0 | 0 | 0 | 19 |
| 32 | Harry York | 2 | 0 | 0 | 0 | 0 | | - | - | - | - | - |
1998-99 Pittsburgh Penguins Goaltending
| # | Goalie | GP | G | A | PTS | PIM | W | L | T | MIN | GA | GAA | SO | SV | PCT |
| --- | --- | --- | --- | --- | --- | --- | --- | --- | --- | --- | --- | --- | --- | --- | --- |
| 35 | Tom Barrasso | 43 | 0 | 3 | 3 | 20 | 19 | 16 | 3 | 2306 | 98 | 2.55 | 4 | 895 | 0.901 |
| | Tom Barrasso playoffs | 13 | 0 | 0 | - | 4 | 6 | 7 | - | 787 | 35 | 2.67 | 1 | | |
| | | | | | | | | | | | | | | | |
| 1 | Peter Skudra | 37 | 0 | 0 | 0 | 2 | 15 | 11 | 5 | 1914 | 89 | 2.79 | 3 | 733 | 0.892 |
| | Peter Skudra playoffs | - | - | - | - | - | - | - | - | - | - | - | - | - | - |
| | | | | | | | | | | | | | | | |
| 30 | J.S. Aubin | 17 | 0 | 0 | 0 | 0 | 4 | 3 | 6 | 756 | 28 | 2.22 | 2 | 276 | 0.908 |
[/three_fourth]
[one_fourth_last]
LEADERSHIP

Primary Owner:
Howard Baldwin, Moris Belzberg, Thomas Ruta & Roger Marino
General Manager:
Craig Patrick
Head Coach:
Kevin Constantine
Captain:
Jaromir Jagr
AWARDS
Rookie of the Year:
Jan Hrdina
Player's Player:
Jaromir Jagr & Martin Straka
Most Valuable Player:
Jaromir Jagr
Booster Club:
Jaromir Jagr
Masterton Nominee:
Darius Kasparaitis
Baz Bastien Good Guy:
Jiri Slegr

Edward J. Debartolo:
Rob Brown & Tyler Wright
Bob Johnson Memorial:
Martin Straka
[/one_fourth_last]
[divider_top]