(37-37-8-6) Finished 3rd in Atlantic Division

TRANSACTIONS
March 13 - Obtained Bob Boughner from Nashville for Pavel Skrbek.
March 14 - Obtained Ron Tugnutt and Janne Laukkanen from Ottawa for Tom Barrasso; acquired Rene Corbet and Tyler Moss from Calagry for Brad Werenka; obtained Josef Beranek from Edmonton for German Titov.
• Mario Lemieux and the Lemieux Group LP became owners of the team.
• Jaromir Jagr opened the season with a 15-game point streak from October 1 – November 13 (14+19=33).
• Alexsey Morozov scored his first hat trick in a 7-5 win at New Jersey on October 7.
• Jagr set an NHL record by recording a point on 15-consecutive goals from October 16 – November 4 (7+8=15).
• Jagr netted his fifth hat trick and his 900th point on Novemebr 26, against the Ottawa Senators.
• Herb Brooks replaced Kevin Constantine as head coach on December 9.
• Alexei Kovelav appeared in his 500th NHL game on December 29.
• Jagr recorded a career-best seven points (3+4) on December 30.
• Jagr appeared in his 700th NHL game on January 7 against the Toronto Maple Leafs.
• Martin Straka tied the team record for two fastest goals by one player (four seconds) on February 11 against the Edmonton Oilers.
• Straka appeared in his 500th NHL career game on February 22.
• Steve Leach appeared in his 700th career game April 5.
• Jagr captured his third consecutive Art Ross Trophy.
• The Penguins and Philadelphia Flyers play the third-longest game in NHL history in Game Five of the Eastern Conference Semifinals. Goaltender Ron Tugnutt makes 70 saves in the five overtime, 2-1 loss.
[divider_top]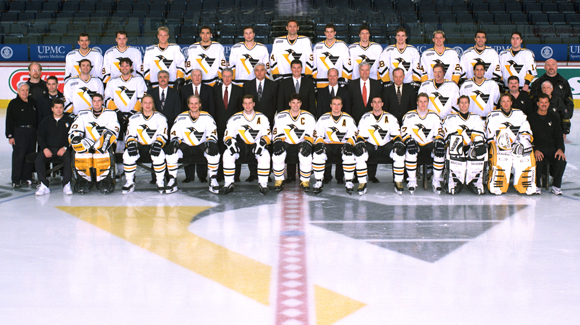 Front row: Paul Flati (Asst. Equip. Manager), Jean-Sebastien Aubin, Darius Kasparaitus, Rob Brown, Jiri Slegr, Jaromir Jagr, Martin Straka, Matthew Barnaby, Alexei Kovalev, Ron Tugnutt, Peter Skudra & Steve Latin (Equip. Manager)
Middle row: Frank Sciulli, Scott Johnson (Trainer), Paul DeFazio, Josef Beranek, Robert Lang, Rick Kehoe (Asst. Coach), Ed Johnston (Asst. General Manager/ Asst. Coach), Herb Brooks (Head Coach), Ivan Hlinka (Associate Head Coach), Mario Lemieux (Owner/CEO), Craig Patrick (General Manager), Ken Sawyer (Chief Financial Officer), Tom Rooney (COO), Tom Chorske, Bob Boughner, Mark Mortland (Trainer), A.T. Caggiano & John Welday (Conditioning Coach)
Back row: Rene Corbet, Tyler Wright, Janne Laukkanen, Michal Rozsival, Aleksey Morozov, Peter Popovic, Dan Trebil, Hans Jonsson, Jan Hrdina, Ian Moran, Stephen Leach & Pat Falloon
[divider_top]
[three_fourth]
1999-00 Pittsburgh Penguins
Click on column headers to sort.
| # | Player | GP | G | A | PTS | PIM | . | GP | G | A | PTS | PIM |
| --- | --- | --- | --- | --- | --- | --- | --- | --- | --- | --- | --- | --- |
| 68 | Jaromir Jagr | 63 | 42 | 54 | 96 | 50 | | 11 | 8 | 8 | 16 | 6 |
| 27 | Alexei Kovalev | 82 | 26 | 40 | 66 | 94 | | 11 | 1 | 5 | 6 | 10 |
| 20 | Robert Lang | 78 | 23 | 42 | 65 | 14 | | 11 | 3 | 3 | 6 | 0 |
| 82 | Martin Straka | 71 | 20 | 39 | 59 | 26 | | 11 | 3 | 9 | 12 | 10 |
| 38 | Jan Hrdina | 70 | 13 | 33 | 46 | 43 | | 9 | 4 | 8 | 12 | 2 |
| 9 | German Titov | 63 | 17 | 25 | 42 | 34 | | - | - | - | - | - |
| 95 | Aleksey Morozov | 68 | 12 | 19 | 31 | 14 | | 5 | 0 | 0 | 0 | 0 |
| 71 | Jiri Slegr | 74 | 11 | 20 | 31 | 82 | | 10 | 2 | 3 | 5 | 19 |
| 36 | Matthew Barnaby | 64 | 12 | 12 | 24 | 197 | | 11 | 0 | 2 | 2 | 29 |
| 44 | Rob Brown | 50 | 10 | 13 | 23 | 10 | | 11 | 1 | 2 | 3 | 0 |
| 29 | Tyler Wright | 50 | 12 | 10 | 22 | 45 | | 11 | 3 | 1 | 4 | 17 |
| 28 | Michal Rozsival | 75 | 4 | 17 | 21 | 48 | | 2 | 0 | 0 | 0 | 4 |
| 37 | Kip Miller | 44 | 4 | 15 | 19 | 10 | | - | - | - | - | - |
| 11 | Darius Kasparaitis | 73 | 3 | 12 | 15 | 146 | | 11 | 1 | 1 | 2 | 10 |
| 8 | Hans Jonsson | 68 | 3 | 11 | 14 | 12 | | 11 | 0 | 10 | 1 | 6 |
| 14 | Pat Falloon | 30 | 4 | 9 | 13 | 10 | | 10 | 1 | 0 | 1 | 2 |
| 24 | Ian Moran | 73 | 4 | 8 | 12 | 28 | | 11 | 0 | 1 | 1 | 2 |
| 5 | Brad Werenka | 61 | 3 | 8 | 11 | 69 | | - | - | - | - | - |
| 18 | Josef Beranek | 13 | 4 | 4 | 8 | 18 | | 11 | 0 | 3 | 3 | 4 |
| 5 | Janne Laukkanen | 11 | 1 | 7 | 8 | 12 | | 11 | 2 | 4 | 6 | 10 |
| 59 | Robert Dome | 22 | 2 | 5 | 7 | 0 | | - | - | - | - | - |
| 17 | Tom Chorske | 33 | 1 | 5 | 6 | 2 | | - | - | - | - | - |
| 7 | Andrew Ference | 30 | 2 | 4 | 6 | 20 | | - | - | - | - | - |
| 34 | Peter Popovic | 54 | 1 | 5 | 6 | 30 | | 10 | 0 | 0 | 0 | 10 |
| 23 | Steve Leach | 56 | 2 | 3 | 5 | 24 | | - | - | - | - | - |
| 32 | John Slaney | 29 | 1 | 4 | 5 | 10 | | 2 | 1 | 0 | 1 | 2 |
| 12 | Martin Sonnenberg | 14 | 1 | 2 | 3 | 0 | | - | - | - | - | - |
| 6 | Bob Boughner | 11 | 1 | 0 | 1 | 69 | | 11 | 0 | 2 | 2 | 15 |
| 9 | Rene Corbet | 4 | 1 | 0 | 1 | 0 | | 7 | 1 | 1 | 2 | 9 |
| 3 | Dan Trebil | 3 | 1 | 0 | 1 | 0 | | - | - | - | - | - |
| 16 | Dennis Bonvie | 28 | 0 | 0 | 0 | 80 | | - | - | - | - | - |
| 22 | Sven Butenschon | 3 | 0 | 0 | 0 | 0 | | - | - | - | - | - |
1999-00 Pittsburgh Penguins Goaltending
| # | Goalie | GP | G | A | PTS | PIM | W | L | T | MIN | GA | GAA | SO | SV | PCT |
| --- | --- | --- | --- | --- | --- | --- | --- | --- | --- | --- | --- | --- | --- | --- | --- |
| 30 | J.S. Aubin | 51 | 0 | 1 | 1 | 2 | 23 | 21 | 3 | 2789 | 120 | 2.58 | 2 | 1392 | 0.914 |
| 1 | Peter Skudra | 20 | 0 | 0 | 0 | 0 | 5 | 7 | 3 | 922 | 48 | 3.12 | 1 | 374 | 0.872 |
| | Peter Skudra playoffs | 1 | - | - | - | - | - | - | | 20 | 1 | 3 | - | - | - |
| | | | | | | | | | | | | | | | |
| 35 | Tom Barrasso | 18 | 0 | 0 | 0 | 6 | 5 | 7 | 2 | 870 | 46 | 3.17 | 1 | 340 | 0.881 |
| 31 | Ron Tugnutt | 7 | 0 | 0 | 0 | 0 | 4 | 2 | 0 | 374 | 15 | 2.41 | 0 | 182 | 0.924 |
| | Ron Tugnutt playoffs | 11 | 6 | 5 | 0 | 2 | 6 | 5 | 0 | 746 | 22 | 1.77 | 2 | | |
[/three_fourth]
[one_fourth_last]
LEADERSHIP

Primary Owner:
Mario Lemieux
(Lemieux Group LP) 
General Manager:
Craig Patrick
Head Coach:
Kevin Constantine & Herb Brooks
Captain:
Jaromir Jagr
AWARDS
Rookie of the Year:
Jean Sebastien Aubin
Player's Player:
Martin Straka
Most Valuable Player:
Jaromir Jagr
Booster Club:
Jean Sebastien Aubin
Masterton Nominee:
Darius Kasparaitis
Baz Bastien Good Guy:
Rob Brown
Edward J. Debartolo:
Matthew Barnaby & Ian Moran
Bob Johnson Memorial:
Jiri Slegr
[/one_fourth_last]
[divider_top]