(42-28-9-3) Finished 3rd in Atlantic Division

TRANSACTIONS
December 28 - Obtained Marc Bergevin from St. Louis for Dan Trebil.
January 14 - Obtained Kevin Stevens from Philadelphia for John Slaney.
February 1 - Obtained Wayne Primeau from Tampa for Matthew Barnaby.
March 12 - Obtained Johan Hedberg and Bobby Dollas from San Jose for Jeff Norton.
• The Penguins opened the 2001 season with two games against the Nashville Predators in Japan.
• Jaromir Jagr recorded his 400th goal on November 13 against the Colorado Avalanche.
• Mario Lemieux announced his comeback to the NHL on December 11. Lemieux posted three points (1+2) against the Toronto Maple Leafs in his first game back on December 27.
• Lemieux recorded career point 1,500 and Jagr notched his 1,000th against the Ottawa Senators on December 30.
• Lemieux posted his 40th career hat trick on January 24 vs. Montreal, the second most in league history.
• Alexei Kovalev had hat tricks back-to-back games against the Philadelphia Flyers (February 7) and  the New Jersey Devils (February 10).
• Lemieux earned his 900th assist on February 25 vs. the New York Islanders.
• The Penguins would miss the playoffs for the next five seasons.
[divider_top]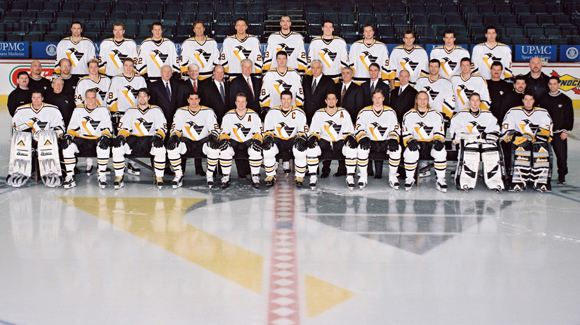 Front row: Garth Snow, Janne Laukkanen, Robert Lang, Kevin Stevens, Martin Straka, Jaromir Jagr, Bob Bougher, Alexei Kovalev, Darius Kasparaitus, Johan Hedberg & Jean-Sebastien Aubin
Middle row: Mark Mortland (Trainer), Tom Plasko (Therapsist), Frank Sciulli (Locker room attendant), Scott Johnson (Trainer), Ian Moran, Jan Hrdina, Ed Johnston (Asst. General Manager), Tom Rooney (COO), Craig Patrick (General Manager), Ken Sawyer (Chief Financial Officer), Mario Lemieux (Owner), Ivan Hlinka (Head Coach), Rick Kehoe (Asst. Coach), Randy Hillier (Asst. Coach), Joe Mullen (Asst. Coach), Marc Bergevin, Hans Jonsson, Steve Latin (Equip. Manager), Paul Flati (Asst. Equip. Manager), John Welday (Conditioning Coach) & Paul DeFazio (Equip. Staff)
Back row: Josef Beranek, Frantisek Kucera, Dan Lacouture, Bobby Dollas, Krzysztof Oliwa, Steve McKenna, Wayne Primeau, Aleksey Morozov, Rene Corbet, Andrew Ference & Billy Tibbetts.
[divider_top]
[three_fourth]
2000-01 Pittsburgh Penguins
Click on column headers to sort.
| # | Player | GP | G | A | PTS | PIM | . | GP | G | A | PTS | PIM |
| --- | --- | --- | --- | --- | --- | --- | --- | --- | --- | --- | --- | --- |
| 68 | Jaromir Jagr | 81 | 52 | 69 | 121 | 42 | | 16 | 2 | 10 | 12 | 18 |
| 27 | Alexei Kovalev | 79 | 44 | 51 | 95 | 96 | | 18 | 5 | 5 | 10 | 16 |
| 82 | Martin Straka | 82 | 27 | 68 | 95 | 38 | | 18 | 5 | 8 | 13 | 8 |
| 20 | Robert Lang | 82 | 32 | 48 | 80 | 28 | | 16 | 4 | 4 | 8 | 4 |
| 66 | Mario Lemieux | 43 | 35 | 41 | 76 | 18 | | 18 | 6 | 11 | 16 | 4 |
| 38 | Jan Hrdina | 78 | 15 | 28 | 43 | 48 | | 18 | 2 | 5 | 7 | 8 |
| 18 | Josef Beranek | 70 | 9 | 14 | 23 | 43 | | 13 | 0 | 2 | 2 | 2 |
| 25 | Kevin Stevens | 32 | 8 | 15 | 23 | 55 | | 17 | 3 | 3 | 6 | 20 |
| 8 | Hans Jonsson | 58 | 4 | 18 | 22 | 22 | | 16 | 0 | 0 | 0 | 8 |
| 5 | Janne Laukkanen | 50 | 3 | 17 | 20 | 34 | | 18 | 2 | 2 | 4 | 14 |
| 11 | Darius Kasparaitis | 77 | 3 | 16 | 19 | 111 | | 17 | 1 | 1 | 2 | 26 |
| 95 | Aleksey Morozov | 66 | 5 | 14 | 19 | 6 | | 18 | 3 | 3 | 6 | 6 |
| 9 | Rene Corbet | 43 | 8 | 9 | 17 | 57 | | 17 | 1 | 0 | 1 | 12 |
| 7 | Andrew Ference | 36 | 4 | 11 | 15 | 28 | | 18 | 3 | 7 | 10 | 16 |
| 71 | Jiri Slegr | 42 | 5 | 10 | 15 | 60 | | - | - | - | - | - |
| 14 | Milan Kraft | 42 | 7 | 7 | 14 | 8 | | 8 | 0 | 0 | 0 | 2 |
| 4 | Jeff Norton | 32 | 2 | 10 | 12 | 20 | | - | - | - | - | - |
| 37 | Kip Miller | 33 | 3 | 8 | 11 | 6 | | - | - | - | - | - |
| 15 | Roman Simicek | 29 | 3 | 6 | 9 | 30 | | - | - | - | - | - |
| 17 | Toby Petersen | 12 | 2 | 6 | 8 | 4 | | - | - | - | - | - |
| 24 | Ian Moran | 40 | 3 | 4 | 7 | 28 | | 18 | 0 | 1 | 1 | 4 |
| 15 | Wayne Primeau | 28 | 1 | 6 | 7 | 54 | | 18 | 1 | 3 | 4 | 2 |
| 36 | Matthew Barnaby | 47 | 1 | 4 | 5 | 168 | | - | - | - | - | - |
| 3 | Marc Bergevin | 36 | 1 | 4 | 5 | 26 | | 12 | 1 | 1 | 1 | 2 |
| 28 | Michal Rozsival | 30 | 1 | 4 | 5 | 26 | | - | - | - | - | - |
| 6 | Bob Boughner | 58 | 1 | 3 | 4 | 147 | | 18 | 0 | 1 | 1 | 22 |
| 29 | Krzysztof Oliwa | 26 | 1 | 2 | 3 | 131 | | 5 | 0 | 0 | 0 | 16 |
| 12 | Billy Tibbetts | 29 | 1 | 2 | 3 | 79 | | - | - | - | - | - |
| 26 | Frantisek Kucera | 7 | 0 | 2 | 2 | 0 | | - | - | - | - | - |
| 2 | Josef Melichar | 18 | 0 | 2 | 2 | 21 | | - | - | - | - | - |
| 22 | Sven Butenschon | 5 | 0 | 1 | 1 | 2 | | - | - | - | - | - |
| 16 | Dennis Bonvie | 3 | 0 | 0 | 0 | 0 | | - | - | - | - | - |
| 32 | Greg Crozier | 1 | 0 | 0 | 0 | 0 | | - | - | - | - | - |
| 4 | Bobby Dollas | 5 | 0 | 0 | 0 | 4 | | - | - | - | - | - |
| 22 | Dan LaCouture | 11 | 0 | 0 | 0 | 14 | | 5 | 0 | 0 | 0 | 2 |
| 23 | Steve McKenna | 34 | 0 | 0 | 0 | 100 | | - | - | - | - | - |
| 23 | Dan Trebil | 16 | 0 | 0 | 0 | 7 | | - | - | - | - | - |
2000-01 Pittsburgh Penguins Goaltending
| # | Goalie | GP | G | A | PTS | PIM | W | L | T | MIN | GA | GAA | SO | SV | PCT |
| --- | --- | --- | --- | --- | --- | --- | --- | --- | --- | --- | --- | --- | --- | --- | --- |
| 30 | J.S. Aubin | 36 | 0 | 1 | 1 | 4 | 20 | 14 | 1 | 2050 | 107 | 3.13 | 0 | 973 | 0.89 |
| | J.S. Aubin playoffs | 1 | 0 | 0 | 0 | 0 | 0 | 0 | - | 1 | 0 | 0 | 0 | | |
| | | | | | | | | | | | | | | | |
| 34 | Garth Snow | 35 | 0 | 0 | 0 | 8 | 14 | 15 | 4 | 2032 | 101 | 2.98 | 3 | 1014 | 0.9 |
| 1 | Johan Hedberg | 9 | 0 | 0 | 0 | 0 | 7 | 1 | 1 | 545 | 24 | 2.64 | 0 | 253 | 0.905 |
| | Johan Hedberg playoffs | 18 | 0 | 0 | 0 | 0 | 9 | 9 | - | 1123 | 43 | 2.3 | 2 | | |
| | | | | | | | | | | | | | | | |
| 1 | Rich Parent | 7 | 0 | 0 | 0 | 0 | 1 | 1 | 3 | 332 | 17 | 3.07 | 0 | 150 | 0.887 |
[/three_fourth]
[one_fourth_last]
LEADERSHIP

Primary Owner:
Mario Lemieux
(Lemieux Group LP) 
General Manager:
Craig Patrick
Head Coach:
Ivan Hlinka
Captain:
Jaromir Jagr
AWARDS
Rookie of the Year:
No winner
Player's Player:
Martin Straka
Most Valuable Player:
Martin Lemieux
Booster Club:
Alexei Kovalev
Masterton Nominee:
Ian Moran
Edward J. Debartolo:
Bob Boughner
Bob Johnson Memorial:
Martin Straka & Darius Kasparaitis
[/one_fourth_last]
[divider_top]