(27-44-6-5) Finished 5th in Atlantic Division
TRANSACTIONS
February 9 - Obtained Shawn Heins from San Jose for a conditional draft pick
February 10 - Obtained Mikael Samuelsson, Rico Fata, Richard Litner and Joel Bouchard from the New York Rangers for Alexei Kovalev, Dan LaCouture, Mike Wilson and Janne Laukkanen.
March 11 - Obtained Matt Bradley from San Jose from Wayne Primeau.
March 11 - Obtained Ramzi Abid, Guillaume Lefebvre and Dan Focht from Pheonix for Jan Hrdina and Francois Leroux
• Martin Straka recorded his 300th assist on December 7 against the New York Islanders
• On January 13, Sebastien Caron stopped 31 shots in his first NHL start, a 2-1 win over the Boston Bruins.
• Mario Lemieux recorded his 1000th career assist, with four against the Boston Bruins on February 8.
• Lemieux bagged his 11th career game-winning overtime goal in a February 18 game against the Edmonton Oilers.
• Straka scored his 500th NHL point, with a goal against the Detroit Red Wings on March 18.
[divider_top]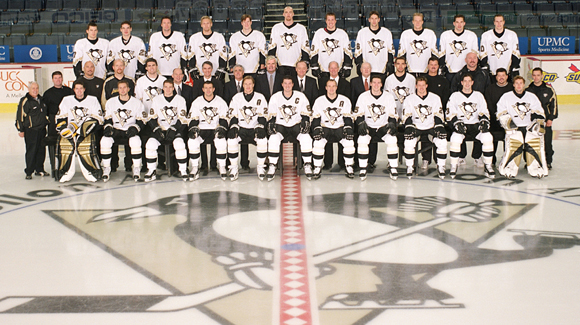 Front row: Jean-Sebastien Aubin, Aleksy Morozov, Jan Hrdina, Marc Bergevin, Alexei Kovalev, Mario Lemieux (Owner/Captian), Martin Straka, Wayne Primeau, Ian Moran, Jamie Pushor & Johan Hedberg
Middle row: Frank Sciulli (Locker room attendant), Mark Mortland (Trainer), Tom Plasko (Physical Therapist), Scott Johnson (Trainer), Josef Melichar, Joe Mullen (Asst. Coach), Randy Hillier (Asst. Coach), Rick Kehoe (Asst. Coach), Ken Sawyer (President, Lemieux Group LP), Tom Rooney (President, Team Lemieux LLC), Craig Patrick (General Manager), Ed Johnston (Asst. General Manager), Michal Rozsival, Steve Latin (Equip. Manager), John Welday (Conditioning Coach) & Paul Flati (Asst. Equip. Manager), Paul DeFazio (Asst. Equip. Manager)
Back row: Andrew Ference, Randy Robitaille, Hans Jonsson, Dick Tarnstrom, Shean Donovan, Steve McKenna, Dan LaCouture, Kent Manderville, Janne Laukkanen, Alexandre Daigle & Ville Nieminen
[divider_top]
[three_fourth]
2002-03 Pittsburgh Penguins
Click on column headers to sort.
| # | Player | GP | G | A | PTS | PIM | . | GP | G | A | PTS | PIM |
| --- | --- | --- | --- | --- | --- | --- | --- | --- | --- | --- | --- | --- |
| 66 | Mario Lemieux | 67 | 28 | 63 | 91 | 43 | | - | - | - | - | - |
| 27 | Alexei Kovalev | 54 | 27 | 37 | 64 | 50 | | - | - | - | - | - |
| 82 | Martin Straka | 60 | 18 | 28 | 46 | 12 | | - | - | - | - | - |
| 32 | Dick Tarnstrom | 61 | 7 | 34 | 41 | 50 | | - | - | - | - | - |
| 38 | Jan Hrdina | 57 | 14 | 25 | 39 | 34 | | - | - | - | - | - |
| 95 | Aleksey Morozov | 27 | 9 | 16 | 25 | 16 | | - | - | - | - | - |
| 10 | Ville Nieminen | 75 | 9 | 12 | 21 | 93 | | - | - | - | - | - |
| 22 | Randy Robitaille | 41 | 5 | 12 | 17 | 8 | | - | - | - | - | - |
| 15 | Wayne Primeau | 70 | 5 | 11 | 16 | 55 | | - | - | - | - | - |
| 19 | Rico Fata | 27 | 5 | 8 | 13 | 10 | | - | - | - | - | - |
| 14 | Milan Kraft | 31 | 7 | 5 | 12 | 10 | | - | - | - | - | - |
| 43 | Tomas Surovy | 26 | 4 | 7 | 11 | 10 | | - | - | - | - | - |
| 23 | Steve McKenna | 79 | 9 | 1 | 10 | 128 | | - | - | - | - | - |
| 28 | Michal Rozsival | 53 | 4 | 6 | 10 | 40 | | - | - | - | - | - |
| 18 | Shean Donovan | 52 | 4 | 5 | 9 | 30 | | - | - | - | - | - |
| 25 | Marc Bergevin | 69 | 2 | 5 | 7 | 36 | | - | - | - | - | - |
| 11 | Alexandre Daigle | 33 | 4 | 3 | 7 | 8 | | - | - | - | - | - |
| 5 | Janne Laukkanen | 17 | 1 | 6 | 7 | 8 | | - | - | - | - | - |
| 26 | Kent Manderville | 82 | 2 | 5 | 7 | 46 | | - | - | - | - | - |
| 24 | Ian Moran | 70 | 0 | 7 | 7 | 46 | | - | - | - | - | - |
| 20 | Mathias Johansson | 12 | 1 | 5 | 6 | 4 | | - | - | - | - | - |
| 33 | Guillaume Lefebvre | 12 | 2 | 4 | 6 | 0 | | - | - | - | - | - |
| 72 | Eric Meloche | 13 | 5 | 1 | 6 | 4 | | - | - | - | - | - |
| 47 & 12 | Michal Sivek | 38 | 3 | 3 | 6 | 14 | | - | - | - | - | - |
| 8 | Hans Jonsson | 63 | 1 | 4 | 5 | 36 | | - | - | - | - | - |
| 6 | Richard Lintner | 19 | 3 | 2 | 5 | 10 | | - | - | - | - | - |
| 7 | Andrew Ference | 22 | 1 | 3 | 4 | 36 | | - | - | - | - | - |
| 33 | Dan LaCouture | 44 | 2 | 2 | 4 | 72 | | - | - | - | - | - |
| 3 | Jamie Pushor | 76 | 3 | 1 | 4 | 76 | | - | - | - | - | - |
| 4 | Dan Focht | 12 | 0 | 3 | 3 | 19 | | - | - | - | - | - |
| 15 | Brian Holzinger | 9 | 1 | 2 | 3 | 6 | | - | - | - | - | - |
| 57 | Shawn Heins | 27 | 1 | 1 | 2 | 33 | | - | - | - | - | - |
| 37 | Mikael Samuelsson | 22 | 2 | 0 | 2 | 8 | | - | - | - | - | - |
| 16 | Kris Beech | 12 | 0 | 1 | 1 | 6 | | - | - | - | - | - |
| 39 | Joel Bouchard | 7 | 0 | 1 | 1 | 0 | | - | - | - | - | - |
| 36 | Tom Kostopoulos | 8 | 0 | 1 | 1 | 0 | | - | - | - | - | - |
| 19 | Vladimir Vujtek | 5 | 0 | 1 | 1 | 0 | | - | - | - | - | - |
| 34 | Ramzi Abid | 3 | 0 | 0 | 0 | 2 | | - | - | - | - | - |
| 48 | Konstantin Koltsov | 2 | 0 | 0 | 0 | 0 | | - | - | - | - | - |
| 34 | Ross Lupaschuk | 3 | 0 | 0 | 0 | 4 | | - | - | - | - | - |
| 2 | Josef Melichar | 8 | 0 | 0 | 0 | 2 | | - | - | - | - | - |
| 29 | Brooks Orpik | 6 | 0 | 0 | 0 | 2 | | - | - | - | - | - |
2002-03 Pittsburgh Penguins Goaltending
| # | Goalie | GP | G | A | PTS | PIM | W | L | T | MIN | GA | GAA | SO | SV | PCT |
| --- | --- | --- | --- | --- | --- | --- | --- | --- | --- | --- | --- | --- | --- | --- | --- |
| 1 | Johan Hedberg | 41 | 0 | 2 | 2 | 18 | 14 | 22 | 4 | 2410 | 126 | 3.14 | 1 | 1071 | 0.895 |
| 30 | J.S. Aubin | 21 | 0 | 1 | 1 | 2 | 6 | 13 | 0 | 1132 | 59 | 3.13 | 1 | 530 | 0.9 |
| 31 | Sebastien Caron | 24 | 0 | 0 | 0 | 6 | 7 | 14 | 2 | 1408 | 62 | 2.64 | 2 | 679 | 0.916 |
[/three_fourth]
[one_fourth_last]
LEADERSHIP

Primary Owner:
Mario Lemieux
(Lemieux Group LP) 
General Manager:
Craig Patrick
Head Coach:
Rick Kehow
Captain:
Mario Lemieux

AWARDS
Rookie of the Year:
No winner
Player's Player:
No winner
Most Valuable Player:
Mario Lemieux
Booster Club:
Mario Lemieux
Masterton Nominee:
Martin Straka
Baz Bastien Good Guy:
Steve McKenna
Edward J. Debartolo:
Johan Hedberg & Steve McKenna
Bob Johnson Memorial:
No winner
[/one_fourth_last]
[divider_top]