(22-46-14) Finished 5th in Atlantic Division

TRANSACTIONS
August 10 - Obtained Jocelyn Thibault from Chicago for a 4th-round pick in 2006 draft.
September 9 - Sent Kris Beech to Nashville for a conditional draft pick.
December 9 - Acquired forward Eric Boguniecki from the St. Louis Blues in exchange for defenseman Steve Poapst.
January 18 - Eric Cairns from the Florida Panthers in exchange for a sixth round pick in the 2006 NHL Entry Draft
January 26 - Acquired Cory Cross and Jani Rita from the Edmonton Oilers in exchange for Dick Tarnstrom.
March 9 - Acquired Petr Taticek from the Florida Panthers for Ric Jackman.
Traded Cory Cross to the Detroit Red Wings in exchange for a fourth-round draft pick in 2007.
Traded Mark Recchi to the Carolina Hurricanes for Niklas Nordgren, Krys Kolanos and a second-round pick in 2007.
Claimed center Andy Hilbert off waivers from the Chicago Blackhawks.
• On July 22, the #12 ball was drawn to indicate the Penguins won the rights to the first pick in the 2005 NHL Entry Draft.
• The Penguins selected Sidney Crosby in the Entry Draft on July 2005.
• The Penguins and Carolina Hurricanes participate in the first shootout for both teams on October 7. The Hurricanes would defeat the Pens.
• Sidney Crosby scores his first NHL goal against the Boston Bruins goaltender Hannu Toivonen on October 8.
• Sidney Crosby scores on the final shot of the shootout – the first ever at Mellon Arena – to give the Penguins a win over the Montreal Candiens on November 10.
• On November 19, two native Pittsburghers squared off on Mellon Arena ice for the first time ever. Philadelphia's R.J. Umberger's had an assist on his first visit to Pittsburgh as an NHL player. The Penguins' Ryan Malone was the other player born in Pittsburgh.
• Coach Ed Olczyk was replaced by Michel Therrien on December 15.
• Mario Lemieux played in his final NHL game on December 16 against the Buffalo Sabres.
• The Penguins beat the Montreal Canadiens, 6-4, on January 3. All of the Penguins goals were scored by rookies. (Crosby-2, Ouellet-2, Talbot, Endicott).
• The Toronto Maple Leafs beat the Pens, 1-0, on a penalty shot goal on March 19. The first time in 70 years a game was won 1-0 on a penalty shot.
• John LeClair scored his 400th NHL goal on March 29 against the Florida Panthers.
• On April 17th Sidney Crosby became the youngest player in NHL history to score 100 points.
• Crosby finished the season with 102 points, breaking the team's rookie record held by Lemieux.
• The Penguins led the NHL in increased attendance – up 33% from 2003-04. Playing to an average 93% capacity at the Mellon Arena.
• Craig Patrick was fired as General Manager on April 20.
• The Penguins named Ray Shero General Manager on May 25.
[divider_top]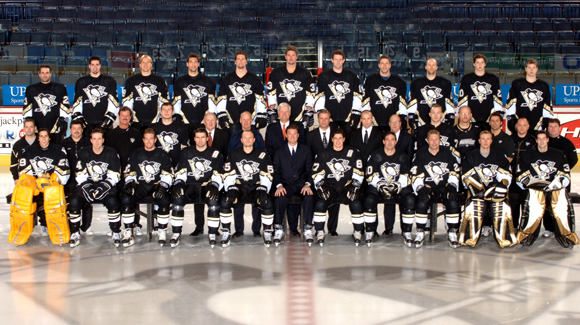 Front row: Marc-Andre Fleury, Brooks Orpik, Ryan Malone, Josef Melichar, Sergei Gonchar, Mario Lemieux (Chairman /CEO), Sidney Crosby, John LeClair, Lyle Odelein, Jocelyn Thibault & Sebastien Caron
Middle row: Paul DeFazio (Equip. Staff), Paul Flati (Asst. Equip. Manager), Steve Latin (Equip. Manager), Tomas Surovy, Ed Johnston (Asst. General Manager), Craig Patrick (General Manager), Ken Sawyer (President), Michel Therrien (Head Coach), Mike Yeo (Asst. Coach), Gilles Meloche (Goaltending Coach), Konstantin Koltsov, Scott Johnson (Trainer), Stephane Dube (Strength and Conditioning), Dave Sampson (Message Therapist) & Mark Mortland (Trainer)
Back row: Eric Boguniecki, Michel Ouellet, Jani Rita, Alain Nasreddine, Andre Roy, Eric Cairns, Ryan Whitney, Rob Scuderi, Niklas Nordgren, Colby Armstrong & Andy Hilbert
[divider_top]
[three_fourth]
2005-06 Pittsburgh Penguins
Click on column headers to sort.
| # | Player | GP | G | A | PTS | PIM | . | GP | G | A | PTS | PIM |
| --- | --- | --- | --- | --- | --- | --- | --- | --- | --- | --- | --- | --- |
| 87 | Sidney Crosby | 81 | 39 | 63 | 102 | 110 | | - | - | - | - | - |
| 55 | Sergei Gonchar | 75 | 12 | 46 | 58 | 100 | | - | - | - | - | - |
| 8 | Mark Recchi | 63 | 24 | 33 | 57 | 56 | | - | - | - | - | - |
| 10 | John LeClair | 73 | 22 | 29 | 51 | 61 | | - | - | - | - | - |
| 12 | Ryan Malone | 77 | 22 | 22 | 44 | 63 | | - | - | - | - | - |
| 33 | Zigmund Palffy | 42 | 11 | 31 | 42 | 12 | | - | - | - | - | - |
| 20 | Colby Armstrong | 47 | 16 | 24 | 40 | 58 | | - | - | - | - | - |
| 6 & 19 | Ryan Whitney | 68 | 6 | 32 | 38 | 85 | | - | - | - | - | - |
| 7 | Michel Ouelett | 50 | 16 | 16 | 32 | 16 | | - | - | - | - | - |
| 22 | Ric Jackman | 49 | 6 | 22 | 28 | 46 | | - | - | - | - | - |
| 9 | Andy Hilbert | 19 | 7 | 11 | 18 | 16 | | - | - | - | - | - |
| 43 | Tomas Surovy | 53 | 12 | 13 | 25 | 45 | | - | - | - | - | - |
| 66 | Mario Lemieux | 26 | 7 | 15 | 22 | 16 | | - | - | - | - | - |
| 18 & 23 | Eric Boguniecki | 38 | 5 | 6 | 11 | 29 | | - | - | - | - | - |
| 2 | Josef Melichar | 72 | 3 | 12 | 15 | 66 | | - | - | - | - | - |
| 16 | Erik Christensen | 33 | 6 | 7 | 13 | 34 | | - | - | - | - | - |
| 28 | Jani Rita | 30 | 3 | 4 | 7 | 4 | | - | - | - | - | - |
| 32 | Dick Tarnstrom | 33 | 5 | 5 | 10 | 52 | | - | - | - | - | - |
| 71 | Konstantin Koltzov | 60 | 3 | 6 | 9 | 20 | | - | - | - | - | - |
| 44 | Brooks Orpik | 64 | 2 | 7 | 9 | 124 | | - | - | - | - | - |
| 25 | Maxime Talbot | 48 | 5 | 3 | 8 | 59 | | - | - | - | - | - |
| 11 | Lasse Pirejeta | 25 | 4 | 3 | 7 | 18 | | - | - | - | - | - |
| 15 | Niklas Nordgren | 15 | 0 | 0 | 0 | 4 | | - | - | - | - | - |
| 17 | Matt Murley | 41 | 1 | 5 | 6 | 24 | | - | - | - | - | - |
| 4 | Noah Welch | 5 | 1 | 3 | 4 | 2 | | - | - | - | - | - |
| 3 | Steve Poapst | 21 | 0 | 4 | 4 | 10 | | - | - | - | - | - |
| 5 | Rob Scuderi | 57 | 0 | 4 | 4 | 36 | | - | - | - | - | - |
| 36 | Andre Roy | 42 | 2 | 1 | 3 | 116 | | - | - | - | - | - |
| 14 & 23 | Shane Endicott | 41 | 1 | 1 | 2 | 43 | | - | - | - | - | - |
| 33 | Eric Cairns | 27 | 1 | 0 | 1 | 87 | | - | - | - | - | - |
| 37 | Ryan VandenBussche | 20 | 1 | 0 | 1 | 42 | | - | - | - | - | - |
| 4 | Cory Cross | 6 | 0 | 1 | 1 | 6 | | - | - | - | - | - |
| 8 | Matt Hussey | 13 | 0 | 1 | 1 | 0 | | - | - | - | - | - |
| 24 | Lyle Odelein | 27 | 0 | 1 | 1 | 50 | | - | - | - | - | - |
| 32 | Alain Nasreddine | 6 | 0 | 0 | 0 | 8 | | - | - | - | - | - |
| 11 | Guillaume Lefebvre | 9 | 0 | 0 | 0 | 9 | | - | - | - | - | - |
| 9 | Rico Fata | 20 | 0 | 0 | 0 | 10 | | - | - | - | - | - |
2005-06 Pittsburgh Penguins Goaltending
| # | Goalie | GP | G | A | PTS | PIM | W | L | T | MIN | GA | GAA | SO | SV | PCT |
| --- | --- | --- | --- | --- | --- | --- | --- | --- | --- | --- | --- | --- | --- | --- | --- |
| 29 | Marc Andre Fleury | 50 | 0 | 1 | 1 | 0 | 13 | 27 | 6 | 2809 | 152 | 3.25 | 1 | 1333 | 0.898 |
| 31 | Sebastien Caron | 26 | 0 | 0 | 0 | 0 | 8 | 9 | 5 | 1312 | 87 | 3.98 | 1 | 646 | 0.881 |
| 41 | Jocelyn Thibault | 16 | 0 | 0 | 0 | 2 | 1 | 9 | 3 | 807 | 60 | 4.46 | 0 | 424 | 0.876 |
| 30 | Danny Sabourin | 1 | 0 | 0 | 0 | 0 | 0 | 1 | 0 | 21 | 4 | 11.68 | 0 | 10 | 0.714 |
[/three_fourth]
[one_fourth_last]
LEADERSHIP

Primary Owner:
Mario Lemieux
(Lemieux Group LP) 
General Manager:
Craig Patrick
Head Coach:
Ed Olczyk & Michael Therrien
Captain:
Mario Lemieux
AWARDS
Rookie of the Year:
Sidney Crosby
Player's Player:
John LeClair
Most Valuable Player:
Sidney Crosby
Booster Club:
Sidney Crosby
Masterton Nominee:
John LeClair
Baz Bastien Good Guy:
Sidney Crosby
Edward J. Debartolo:
Ryan Malone, Colby Armstrong, Ryan Whitney & Marc-Andre Fleury
Bob Johnson Memorial:
No winner
[/one_fourth_last]
[divider_top]