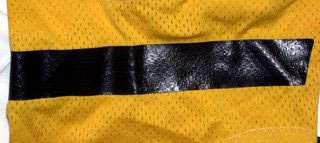 The Pittsburgh Penguins wore a simple black armband that was screened on the left sleeve as a memorial to General Manager Baz Bastien who died in a car accident on March 15, 1983.
The team wore the armband for the remaining three home games of the 1982-83 season.
Bastien was a standout goaltender for the the Pittsburgh Hornets and twice won the Harry "Hap" Holmes award for AHL top goalie. Â Bastien began his career in Pittsburgh in 1945-46 until he lost his right eye in a training camp injury in 1949.
He went on to be a general manager and coach for the Hornets and won three Calder Cup championships with Pittsburgh. Â He was the general manager of the Penguins from December 3, 1976 Â until his death.