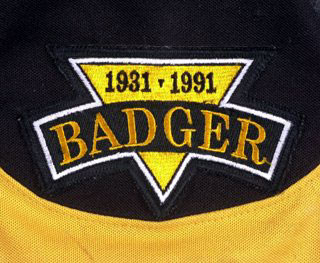 On Novemeber 27, 1991 – only 22 games into the 1991-92 season – the Pittsburgh Penguins first wore this patch -a day after Head Coach Bob Johnson died.
Johnson, who joined the team 17 months earlier, lead the Pens to "the top of the mountain" en route to the franchise's first Stanley Cup Championship. The Pens wore the Badger patch on the left shoulder.
A 1992 Stanley Cup patch was sewn on a separate piece of material and covered over NHL's 75th Anniversary logo later that season.
Pittsburgh also wore a 25th Anniversary patch on the right shoulder.
BELOW: Penguins honor the memory of late head coach, Badger Bob Johnson in a candle-light ceremony on against the New Jersey Devils. Johnson died of brain cancer on Nov. 26.