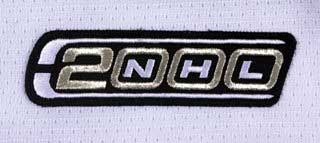 During the 1999-00 season, all teams wore the 2000 NHL patch on their upper right chests on both home and away jerseys.
The NHL also changed the traditional orange and black NHL crest on the rear hems of the jersey and replaced the orange with silver.
A majority of teams wore jerseys made by Pro Player — the only year Pro Player jerseys were used. The combination of the one-year patch and the manufacturer's short stint in the NHL, make the jerseys highly collectable.