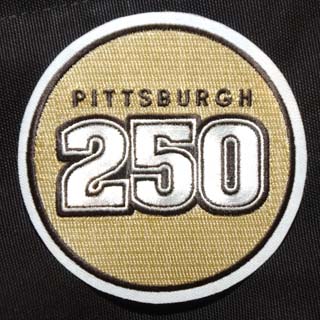 PITTSBURGH, PA, September 5, 2007 – The Pittsburgh 250 Commission celebrates the decision by the Pittsburgh Penguins to wear an embroidered four-inch Pittsburgh 250 patch in honor of our region's rich history, the role we played in shaping America, and the impact we have made around the world.
"Like our region, the Pittsburgh Penguins have a rich history, one that has made a global impact in the hockey world," said Michael Langley, CEO of the Allegheny Conference on Community Development and a vice chairman of the Pittsburgh 250 Commission. "Also, like the Pittsburgh Penguins, who boast the world's youngest and brightest hockey stars, the Pittsburgh region is poised for a future filled with the next generation of champions who strive to make the world better."
Langley also noted that the Penguins join a long list of regional groups – including cultural, economic development, and travel and tourism organizations and other sports teams – who are incorporating Pittsburgh 250 in their marketing efforts.
The patches will be worn on both home and road jerseys, placed on the right shoulder sleeve.
In 2008 the Pittsburgh Penguins also wore a Stanley Cup final patch on the upper right chest.