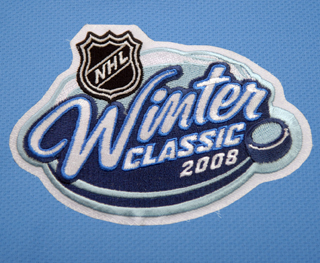 The Buffalo Sabres and Pittsburgh Penguins squared off in the NHL's second-ever outdoor game on January 1, 2008 at Rich Stadium in Buffalo.
The Penguins and Sabres wore "throwback" style uniforms. Pittsburgh sported the Columbia Blue jerseys with the circular "Pittsburgh Penguins" crest similar to the style worn by the Pens from 1968 through 1972.
Both teams' jerseys featured a NHL Winter Classic 2008 Patch on the front-right chest area.