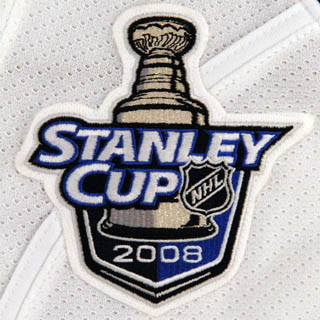 The Pittsburgh Penguins wore this patch on the upper right chest area (see photo below) in the 2008 Stanley Cup final when they faced the Detroit Red Wings.
A Stanley Cup final set of home and road jerseys featured the patch and had the 2007-08 Stanley Cup Finals tag sewn to the fight strap and a set tag on the inside hem. (See photo below at left).
The players kept their home, or black, jerseys and the road white jerseys were made available to the public.
The 2008 jerseys also feature a second patch, worn on the right shoulder, to honor Pittsburgh's 250th Anniversary.