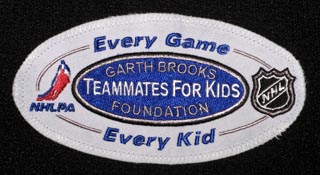 The National Hockey League and the National Hockey League Players' Association conducted a unique auction of game-worn jerseys with proceeds benefiting the Garth Brooks Teammates for Kids Foundation.
The 2007 Teammates for Kids Auction features jerseys worn by all players on each of the 30 NHL team rosters during one select home game in January.
Pittsburgh wore the jerseys at home on January 7, 2007 against Tampa Bay.
Each jersey was authenticated with a one-of-a-kind embroidered patch – emblazoned with the NHL, NHLPA and Teammates for Kids "Every Game. Every Kid." logo – and has been security-tagged, serial numbered and registered into the NHL-MeiGray Group Game-Worn Jersey Authentication Program. Each jersey comes with a Letter of Authenticity from the NHL and NHLPA.
Penguins jerseys raised over $37,000 for the auction.
The Pens jerseys have a team patch inside the rear hem with a mistake that reads: "1/9/07."
Joseph Melichar

Rob Scuderi

Michel Ouellet

Mark Recchi

Jordan Staal

Ryan Malone

Eric Christensen

Dominic Moore

Ryan Whitney

Colby Armstrong

Maxime Talbot

Ronald Petrovicky

Marc Andre Fleury

Alain Nasreddine

Jarkko Ruuto

Jocelyn Thibault

Brooks Orpik

Sergei Gonchar

Evgeni Malkin

Sidney Crosby

Total

*** = dressed, but did not play
Auction details:
In November 2005, the National Hockey League and National Hockey League Players' Association jointly selected the Garth Brooks Teammates for Kids Foundation as the official children's charity of the NHL and NHLPA. This league-wide alliance included players from all 30 NHL Member Clubs and utilizes the League and Players' Association's full platform of marketing resources. The partnership focused on the Top Shelf Teammates program, a division of the Garth Brooks Teammates For Kids Foundation, which contributes financial resources to non-profit organizations that benefit children's health, education and inner-city services. Since its inception, more than $1.5 million has been donated by NHL players.
As a result of the NHL players' involvement in the auction, the NHL has become the first professional sports league to achieve 100% athlete participation in the Garth Brooks Teammates for Kids Foundation.