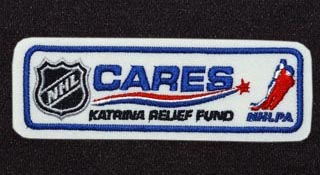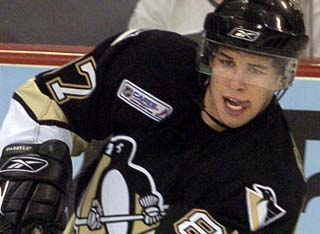 For the first period of Pittsburgh's home opener against the Boston Bruins, players wore jerseys bearing a special patch confirming the club and player's commitment to the people and communities impacted by Hurricane Katrina.
The jerseys, donated by Reebok, featured a one of a kind embroidered patch located on the top right chest, emblazoned with the "NHL NHLPA Cares Katrina Relief Fund" logo.
The National Hockey League and the National Hockey League Players' Association conducted a unique auction of game-worn jerseys with all proceeds going to World Vision to further support those affected by Hurricane Katrina.
This was the largest game-worn jersey auction ever conducted by the NHLPA and NHL.
The auction took place between November 14th 2005 and continued through November 29th.
Sidney Crosby has the Midas Touch
Crosby, a consistently golden playmaker on the ice for the Penguins, turned a hockey sweater into gold for the sake of Hurricane Katrina vicitms.
#

Player

Worn?

Price

2

Joeseph Melichar

Worn

$625.00

3

Steve Poapst

Worn

$391.00

5

Rob Scuderi

Issued

$350.00

7

Matt Hussey

Issued

$345.00

8

Mark Recchi

Worn

$2,035.00

9

Rico Fata

Worn

$511.00

10

John LeClair

Worn

$1,010.00

11

Lasse Pirjeta

Worn

$445.00

12

Ryan Malone

Worn

$760.00

17

Matt Murley

Worn

$710.00

22

Ric Jackman

Worn

$935.00

24

Lyle Odelin

Issued

$345.00

25

Maxime Talbot

Worn

$735.00

29

Marc Andre Fleury

Issued

$1,310.00

31

Sebastian Caron

Worn

$509.00

32

Dick Tarnstrom

Worn

$456.00

33

Ziggy Palffy

Worn

$2,000.00

36

Andre Roy

Worn

$421.67

37

Ryan VandenBussche

Issued

$410.00

40

Andy Chido

***

41

Jocelyn Thibault

Issued

$710.00

43

Tomas Surovy

Issued

$400.00

44

Brooks Orpik

Worn

$672.66

55

Sergei Gonchar

Worn

$1,760.00

66

Mario Lemieux

Worn

$6,709.99

71

Konstantin Koltsov

Worn

$400.00

87

Sidney Crosby

Worn

$21,010.00

Total

$45,966.32
An unnamed collector paid a price of $21,010 for the jersey Crosby wore on opening night at the Mellon Arena on October 8. Crosby wore the dark jersey, trimmed in Las Vegas Gold, and a commemorative patch in the first period only.
The game worn jersey – despite being on the ice slightly under six minutes – earned the highest price in the auction. That's about $58 per second. A total of 94 bids were placed on Crosby's one-period-wonder. $7929 was the second highest price paid for Alexander Ovechkin's of the Washington Capitals. An authentic, pro-style jersey with Crosby's name and number sells for $360 at Pen's Station inside the arena's pro shop.
Two other recent Crosby jerseys captured the imagination of the sports memoribilla world. Crosby's Team Canada jersey worn in a gold-medal win over Russia in the championship on January 4, 2005 in Grand Forks, N.D., was stolen by an Air Canada baggage handler. The jersey was found outside a post office in Lachute, Que. by a postal worker a week later. It was auctioned off, with the proceeds going toward youth hockey charities and south Asian tsunami relief. The jersey yielded an astounding high bid of $22,100.
Crosby's white jersey from his first NHL game in New Jersey was unaccounted for after disappearing from his father Troy's checked luggage on a US Airways plane on October 9, 2005. That jersey was found two days later in a non-public stairwell by an airline employee and returned to Crosby's father.