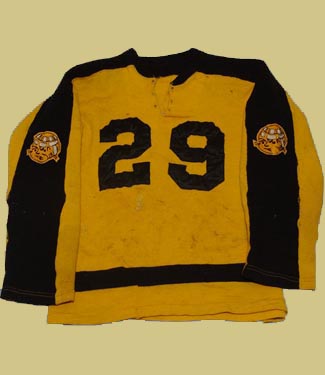 The 1952-53 Hornets rolled out a new black and gold color scheme that was familiar with the city's baseball and football teams. The color wasn't new for hockey in Pittsburgh. The Pittsburgh Pirates wore those colors from 1925-27, before switching to black in orange in 1929-30.
The Hornets wore wool jerseys with a gold body and black trim for road games and black with gold trim at the Duquesne Gardens. The jerseys featured tie-down collars and the familiar hornet in a hard hat on the sleeves.
The shorts of the the uniform featured vertical striping and the letter "P" on the left leg.