A program from the 1929-30 Pittsburgh Pirates hockey team sold for $1,008 in an Ebay auction that ended Saturday.
Two of the five bidders were prepared to pay at least $1,000 for the vintage 14-page program.
The program was described as "a rare National Hockey League Program featuring the Home Pittsburgh Pirates versus the vaunted Montreal Canadiens in the 1929-30 season. Montreal stalwarts included Hall of Fame players such as Howie Morenz (misspelled in program as Lorenz), Aurel Joliat (also misspelled in program) Hainesworth and Sylvio Mantha. The Hockey Pirates, not to be confused with other Pittsburgh teams that we know and love, were initially in the NHL from 1925-1930 and subsequently moved to Philly."
The cover has an illustration of a Pirates' goaltender wearing the team's orange and black uniforms.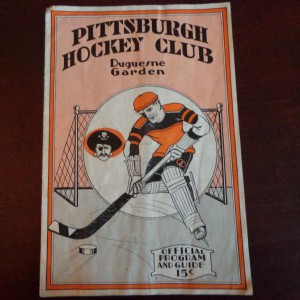 The program appears to be from March 1, 1930, the last "home" game the Pirates played at Duquesne Garden in Oakland. Attendance was 2,000 for the Saturday evening game, which the Canadiens won, 4-2.
The Pirates would play five more games after the Canadiens match before being transferred to Philadelphia to become the Quakers, including three "home" games played in neutral locations.
Pittsburgh's first NHL team lasted only five seasons. The city would wait another 37 years for an NHL franchise when the Penguins joined the league when it expanded to 12 teams.